Pickens resident Bryson's new cookbook celebrates the South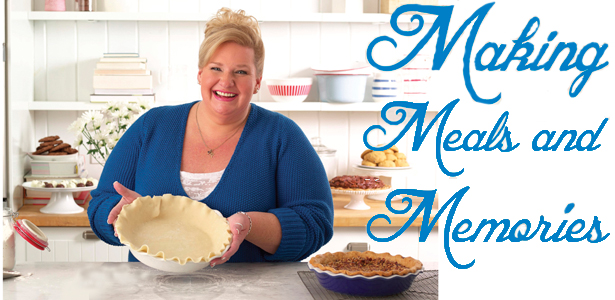 By Jason Evans
Staff Reporter
jevans@thepccourier.com
PICKENS — "We're in the age of technology — everything goes so fast," Francine Bryson said. "I think this world moves so fast. We all need to slow down — and the kitchen table is where we need to slow down at."
Her own life has been very busy — "My life is nuts," the Pickens resident said — since she was a finalist on CBS' "The American Baking Competition."
Her first book, "Blue Ribbon Baking From a Redneck Kitchen," published in 2014, was very successful.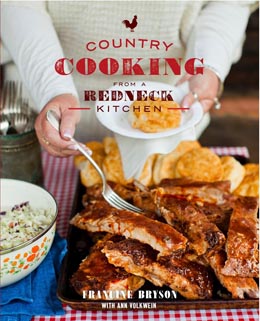 Her latest cookbook, "Country Cooking From a Redneck Kitchen," was released in April.
Since the show, Bryson has done some filming for the Food Network and created "sizzle reels" for several show ideas.
"It takes years," Bryson said. "The show that I was on, it took three years to get it on the air. The stuff that I'm working now will probably be on the air in a couple of years. TV is not an overnight process. It's a lot of ducks in a row. It's a lot of people that have to be answered to.
"It's a lot of fun, don't get me wrong," she continued. "It's definitely not the career I thought I was gonna have in my life. I'm enjoying every minute of it."
Bryson has hosted baking cruises for Carnival Cruise Lines and has another one planned for next year on a different cruise line.
"It's based around food," Bryson said. "It's just fun. We do it every May."
The "Baking at Sea with Francine" cruises feature "all kinds of activities" for attendees, she said.
"It's specialized just for that group. You get to do hands-on cooking demos with me," Bryson said. "There's cocktail parties for the group, there's culinary tours of the islands for the group."
Although her second book has just been released, she's already hard at work collecting recipes for her next book.
Sarah Remington/Photo    Francine might be best known for her pies. She even put cheeseburgers in a pie shell.
After the success of her first book, Bryson's fans wanted a "quote-unquote real food book," she said.
"That's my heart, baking, but they were like 'Do you cook real food?'" Bryson said, laughing. "I said, 'Of course I cook real food! You can't feed kids cupcakes every day.'"
The food that she grew up with is the focus of "Country Cooking."
"There's something comforting about Watergate salad, because it's something that my Nana used to make on holidays," Bryson said. "Every time I eat it, it brings me back to being 7, 8 years old and all my cousins are around me and we're having a good time, eating Watergate salad in my Nana's kitchen. All my food brings back a memory. To me, that's exciting."
She shares many of those memories in the book, which is full of shout-outs to local places, such as Tanner's Big Orange in Greenville and the Hagood Mill. Many of the pictures in the book were taken at the mill.
All the recipes "are tried and true and practiced," Bryson said.
"I went over them and over them to make sure they were no-fail," she said. "We worked really hard to create them and make them."
She loves collecting cookbooks — "I read them like romance novels" — but she balks at overly complicated recipes with fancy ingredients.
"I wanted it to be comfortable," Bryson said. "We're not building a rocket ship or anything here. We're just cooking a meal. Everything should be easy to understand. Ingredients you can buy anywhere — that's the big thing. You shouldn't take out a bank loan to cook good food. I did not want that craziness in my book."
Many chefs are taking traditional Southern food and fusing it with other cultures, she said.
Sarah Remington/Photo  Blueberry BBQ sauce was the result of a day Francine spent in the kitchen experimenting with fresh blueberries.
"It's getting lost in translation," Bryson said. "Deep-rooted Southern cuisine is getting lost. It's a shame. I'm hoping to bring it back. That's my mission.
"I want to bring people back to fried green tomatoes, gravy on the cube steak, real mashed taters, not the ones you get out of a box," she continued. "That's what I'm hoping to bring people back to."
That's not to say she doesn't like to experiment. Take her upside-down apple bacon pie.
"In the first book, there is a national championship pie in there called the upside-down apple pecan pie," Bryson said. "That's actually the North Carolina state grand champion. It's the same exact recipe, except instead of using pecans, you lattice bacon and then flip it out and you've got this big showpiece."
The pie is the result of Bryson playing around in the kitchen.
"I said, 'I've got to figure out a way to put bacon in an apple pie,'" she said. "Everybody looks to me for new bacon recipes. I can't top the Chocolate Bacon Peanut Butter Pie. I just can't do it. I've tried so hard. That thing took on a life of its own."
She's happy with the final result.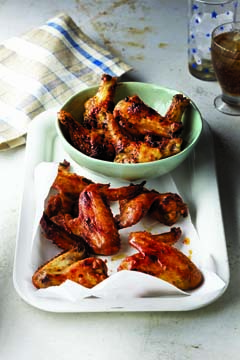 "It's a beautiful piece," Bryson said. "It's almost too pretty to eat. It tastes good, too!"
The pie isn't one-note.
"You've got the saltiness of that bacon, it mixes with the brown sugar, it's almost like a salted caramel pie with apples," Bryson said. "It's sweet and salty. You've got the creaminess of the apples that have cooked down and you've got the flaky crust. It's just layers of flavors. That's what I like to create with my food, layers of flavors."
Sarah Remington/Photo    Two Southern staples, bourbon and Coca-Cola, come together in this recipe for wings.
She encourages people to take time in their hectic routines to make — and enjoy — a good meal.
"We are so busy," Bryson said. "People need to slow down. Turn the phones off. Sit at the table and actually talk to each other. Enjoy your meal, enjoy the people you're around. Enjoy your life."