Pickens volleyball wins AAA State championship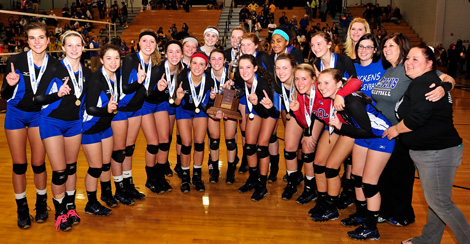 BoltonPhoto.com
Members of the Pickens High School volleyball team celebrate their State Championship victory over North Myrtle Beach on Saturday in Columbia.
COLUMBIA — The title came after months of preparation, a team determined to get back to the big stage.
Pickens High School won its first State championship since 2008 on Saturday at White Knoll High School in a rematch with the defending State champion North Myrtle Beach Chiefs, who defeated the Lady Blue Flame in last year's State title match.
"Having the opportunity to recapture the trophy and bring the elusive 14th championship to Pickens was a season-long goal," Blue Flame coach Jennifer Gravely said. "Facing the team that dashed our dream last year and beating them was super sweet. I like a rivalry. We don't play a lot of common opponents, so it's always hard to judge the level of competition and what each team will bring mentally. But we knew they were a great team and we worked hard this week at practice, like we did all season.
"Bottom line, we had an extra little push with it being North Myrtle Beach. A great hunger."
The Lady Flame swept the Chiefs 25-12, 25-23, 25-15. In the first game, Pickens played solid in every area and capitalized on NMB mistakes. As had often been the case with the team this season, the Flame started slowly and spotted their opponents seven points in the opening stretch of the second game. The team battled, gaining ground before a nine-point run put them up 20-16. NMB went on a run of its own and the game was tied at 21-21 and 23-23. Pickens' Michaela Leslie finished out the set with a pair of kills. The third game see-sawed back and forth until Pickens pulled away, fueled by terrific net play by the front row and relentless pursuit by the back row.
"We had a strong defensive presence, including at the net where we notched 16 blocks," said Gravely. "It's always about defense and serve receive for us. Add to that we were perfect serving and were smart but aggressive offensively, that translates into a pretty good performance. I couldn't be more pleased and proud of this group of athletes.
"The seniors showed poise and leadership, and the underclassman followed suit. The fans came out in passionate support of this team. Such a wonderful season."
The Lady Flame cruised through the first three rounds of the playoffs, but faced a tough Chapin team that fell to Pickens in last year's Upper State Championship for the Upper State title.
"We knew they were motivated to play well, and they gave us all we could handle offensively," said Gravely. "But our defense stepped up. We tallied 18 blocks and 86 digs. Playing in front of a rowdy home crowd also pushed us to finish the job."
Even though the Flame dropped a heartbreaking second game, the team dispatched Chapin to secure a berth in the State championship match, 25-19, 26-28, 25-21, 25-21.
Pickens finished the year with a record of 26-4 (14-0 Region II-AAA), with all four losses coming against powerhouse teams from Georgia. Since 2003 and the introduction of rally scoring, Pickens has a combined playoff and region record of 160-12.
State championship game stats:
Faith Dickard 2 digs, 1 block, 2 kills
Haley Holcombe 4 digs, 3 blocks, 2 aces, 13 assists
Laiken Porterfield 18 digs, 1 block, 1 ace, 10 kills
Rachel Kellett 15 digs, 21 assists
Michaela Leslie 17 digs, 3 blocks, 10 kills,
Brianna O'Shields 2 digs, 3 blocks, 7 kills
Melodie Broom 29 digs, 1 assist
Brooke Stewart 1 dig, 5 blocks, 7 kills