Pickens wins gold at the Blue Flame Brawl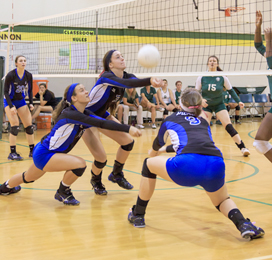 Russell W. Brinson III/Photo
Faith Dickard passing the ball will Rachel Kellett directly behind her, Madison Holford,and Michaela Leslie looking on.
PICKENS — On Saturday, October 12, the Lady Flame sweep through the field at their own tournament to win gold. Pickens started pool play against a much improved Westside team, winning 25-8, 25-19. Then the team defeated West Oak 25-10, 25-14 and finished undefeated in pool play by beating Chesnee 25-7, 25-18.
In the semis of the gold bracket, the Lady Flame started slowly against Wren, spotting the Hurricanes seven points before pulling together as a team to win the first game 25-20. The momentum shifted and Pickens thrashed the competition 25-6 to win the match. Against a strong South Pointe team, the Flame played inspired ball to take the championship 25-20, 25-13.
"It was a great day of competitive volleyball. The JV team and parents, along with gym director Drew Carlisle and the varsity parents and players, put on a terrific tournament. I'm pleased at the way we played throughout the day and am thrilled at the turn out," said Coach Jennifer Gravely.
Westside beat Chesnee to win silver and Christ's Church won bronze.
For the Lady Flame, Michaela Leslie and Laiken Porterfield were named to the all-tournament team.
Both Pickens teams take on Greenville at home on Tuesday before heading on the road Thursday to play Greer. Senior night is scheduled for the Southside match on October 24.