Playoff run comes to quick end for Easley
By Eugene Jolley
Courier Sports
ejolley@thepccourier.com
GAFFNEY — The 2017 season came to an end for Easley on Friday night as 17-time state champion Gaffney beat the Green Wave 33-14 at the Reservation.
Easley ends the season with a 5-6 record for a second consecutive season. Gaffney (7-4) advances to play at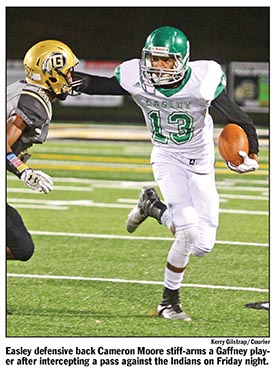 Northwestern Friday night in the second round of the Class 5A playoffs.
The first-round playoff game was the first meeting between the two schools since 1956.
Easley got the ball first, and after a delay of game penalty to start, tried for the big play with Bailey Catoe trying a flanker reverse pass. But the pass to Hakeem Bowman fell incomplete.
"We had worked on that and we were hoping to be on the right hash having a right-handed thrower in there. We had a shot at it as he got in behind themm but just didn't complete it. We were trying to find a big play somehow to get us started," Easley coach John
You must be logged in to view this content.
Subscribe Today or Login