Playoffs at stake as Lions, Flame battle
John Bolton/BoltonPhoto.com
(Left) Pickens' Jared Pace, seen here trying to tackle Daniel receiver Carter Groomes during their game last year, is hoping to lead the Blue Flame to a playoff berth with a win over the Lions this Friday. Pace is Pickens' starter at quarterback after an injury to Tanner Stegall earlier this season. (Right) Pickens senior Brandon Batson, seen here swinging out for a pass against Daniel last season, has been one of the leaders for the Blue Flame this season.
By Eugene Jolley
Courier Sports
ejolley@thepccourier.com
PICKENS — For South Carolina high schools, November is usually reserved for playoff football, and Friday's game between county rivals Daniel and Pickens will have that feel to it as the two teams close out Region I-4A play.
The game, originally scheduled for Oct. 28, was pushed back a week after lower state schools postponing two weeks of play due to Hurricane Matthew.
Now, the state playoffs will begin Nov. 18 and the winner of this week's game will be in the playoffs for sure, or so it seems.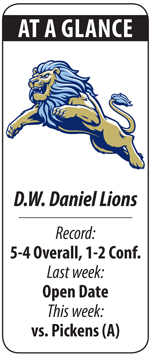 Daniel (5-4, 1-3 Region I-4A) can clinch third place in the region with a win, after beating Greenville in the last game. A Pickens win means there will be three teams tied for two spots. Greenville beat Pickens early in region play, the first week Jared Pace took over for an injured Tanner Stegall at quarterback for the Blue Flame.
Last year's game was a classic at Daniel, as the Lions held on for a 28-24 homecoming win. Pickens ended the game at the Lions' 11-yard line but couldn't punch it in. Daniel quarterback Ben Batson, who has missed a game with injury this year, threw for 230 yards and three scores and ran for 71 yards. He was picked off three times.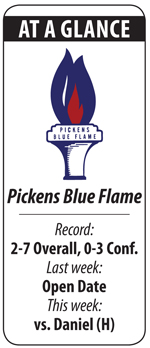 The Blue Flame (2-7, 0-3) snapped a four-game losing streak with a 33-0 win over Travelers Rest in their last game.
Pickens has switched from a one-back, three- or four-wide set to a one-receiver, three-back offensive look similar to Georgia Tech. Senior Kyle Day has been the B-back or fullback, and he eclipsed the 100-yard mark the last game out with 176 yards and two touchdowns on 23 carries.
"We needed it in the worst way, because I felt like they were doing all the right things in practice," Pickens coach Chad Seaborn said. "We were practicing them hard and making corrections. They wanted it. It was a win we needed, and I think it will give them some confidence in a tough game against Daniel next. I hope we can keep the momentum going. I told them, we win, we're in. As long as we keep winning, we keep playing. I like this group, and I want to play with them as long as we can."
Seaborn took over for John Boggs, who was let go after the West-Oak win this season.
Defensively, the Blue Flame have been led by senior linebacker Cole Seaborn and junior linebacker Bryson Capps. Capps has blocked two punts. Seaborn picked off a pass in the win over Travelers Rest. It was the Blue Flame's first shutout since a 38-0 win over West-Oak in 2015.
Daniel coach Jeff Fruster is in his first year as the head man of the Lions. He understands the importance of the game Friday night.
"Let the playoffs happen wherever they happen — we are just going to gear up for Pickens," Fruster said. "We have an extra week to prepare for Pickens, (but) unfortunately it means they also have an extra week to prepare for us. Pickens is going to be what we have always known Pickens to be. They will have a very strong run game, and they are throwing the ball a little bit now and having success with that. We still have to put our work hats on and go back and look at the holes and try to get better. We still have a big region opponent we have to get ready for in Pickens. We are going to have to come together as a team again to get that win. (The team's win over Greenville) was big. You don't get to pick the kids, but the kids definitely get to pick you. I knew when I took over that they had a lot of confidence in me, and my aspiration was to come through for them."
Junior linebacker Jake Venables has been one of the leaders of the Daniel defense all season.
Kickoff is set for 7:30 p.m. Friday night at Blue Flame Stadium.