Plumbley arrested in Greenville after allegedly cutting ankle monitor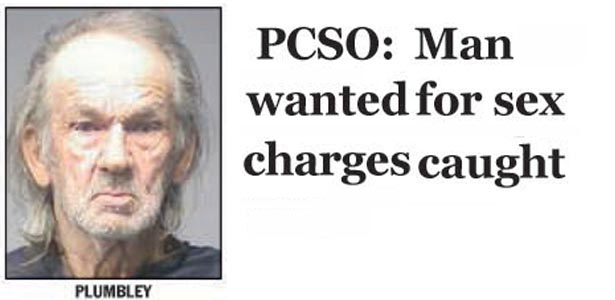 PICKENS COUNTY — The Pickens County Sheriff's Office said Monday a former prisoner charged with sexual assault whose whereabouts were unknown after apparently cutting off his ankle monitor last week is now in jail in Greenville.
Chief Deputy Creed Hashe said last Friday the sheriff's office received several inquiries seeking updated information on John Ancil Plumbley, 74, of Talley St. in Greenville. At the time, Hashe said the only information he could provide was a copy of Plumbley's arrest warrant stemming from a 2015 Pickens County investigation, as well as his mug shot.
Plumbley was arrested and booked into the Pickens County Detention Center in March and released the following month after posting a $10,000 surety bond. An arrest warrant claims Plumbley engaged in sexual battery with an underage female between July 16 and Aug. 13, 2015.
The charge specifically issued against Plumbley was for second-degree criminal sexual conduct with a minor or attempt with a victim 11 to 14 years of age.
On Monday afternoon, Hashe said that after reviewing the "inmate search" screen for the Greenville County Detention Center, it appears Plumbley was arrested and placed into the facility Sunday.
"I do not have any information regarding that arrest, but their screen indicates that he has been served with two Greenville County charges of criminal sexual conduct with a minor," Hashe said. "(Plumbley) remains inside their facility."
Hashe added that the Pickens County Sheriff's Office has placed a hold on Plumbley to be transferred back upon his release from Greenville County, with a general sessions bench warrant to be served on Plumbley to address the ankle monitor issue.