Police: Armed hit and run suspect at large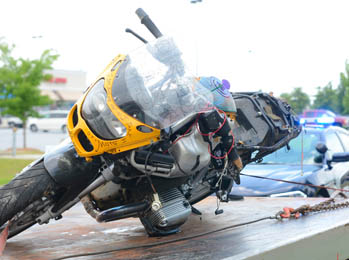 Kerry Gilstrap/Courier
Police identified Derek Bennett Williams, right, as the man they believe crashed this motorcycle stolen from Greenville County at the Easley Town Center last week before displaying a gun and fleeing into the woods.
EASLEY — Police are asking for the public's help to find a man they say got away on foot after crashing a stolen motorcycle and pointing a gun in Easley last week.
[cointent_lockedcontent]Derek Bennett Williams, 34, whose address is listed on warrants as 421 McAlister Road in Williamston, was charged with two counts of leaving the scene of an accident, two counts of pointing and presenting a firearm, possession of a stolen vehicle,
possession of a firearm by a convicted felon, resisting arrest and reckless driving, according to Easley police chief Tim Tollison.
Tollison said an Easley officer was passed by a man driving a motorcycle shortly before noon on Friday when he noticed the motorcycle did not have a license plate. When the motorcycle turned right into the Easley Town Center, the officer turned and followed, Tollison said.
The officer said he was approximately three vehicles behind the motorcycle when the driver — later identified as Williams — turned around and saw him. Tollison said the man then took off at a high rate of speed before losing control of the motorcycle, striking two vehicles and flipping end over end.
The driver got up and, according to witnesses, displayed a silver handgun and ran from the scene, Tollison said.
As the officer chased on foot, the suspect scaled a fence and ran into the woods behind Academy Sports, according to Tollison.
Easley police and Pickens County Sheriff's Office deputies set up a perimeter surrounding the patch of woods, and a sheriff's office K-9 unit and Anderson County Sheriff's Office helicopter aided in the search, but the search was called off after around two hours.
Williams is described as a 5'10″ white male, weighing approximately 160-170 pounds, with multiple tattoos. Police said he was wearing plaid shorts, no shirt and a black helmet at the time of the incident.
The motorcycle involved in the incident was reported stolen out of Greenville County, Tollison said.
No one was injured in the incident.
Tollison said Williams should still be considered armed, and anyone who sees him is asked to call the Easley Police Department at (864) 859-4025 or dial 911.[/cointent_lockedcontent]