Police: Driver hit Doodle cyclist, fled
PICKENS — An Anderson man was arrested after witnesses told police he hit a cyclist headed to the newly opened Doodle Trail twice with his car before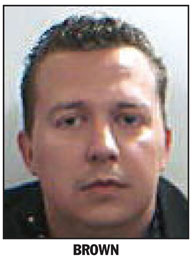 leaving last week.
According to a Pickens Police Department incident report, officers received a call around 6:23 p.m. on Sunday, June 7, about a hit and run at the Arby's restaurant at Railroad Street in Pickens.
Upon arrival, officers spoke to the 41-year-old victim, who said he was riding his bicycle down Railroad Street toward the entrance of the Doodle Trail when a black Volvo came up behind him and stopped at the intersection of Railroad Street and Hampton Avenue.
A witness on the scene told the responding officer the cyclist and the driver of the car both waved for the other to go first. After the Volvo sat in the road, the cyclist began to cross the road to go into the Arby's parking lot, and the Volvo began to move at the same time and struck the cyclist, witnesses told police.
After being hit, the cyclist got up and yelled at the driver of the car, according to report, before witnesses said the driver hit the gas and struck the man again, knocking him off his feet and onto the ground.
The driver then sped off toward S.C. Highway 183, witnesses said. Witnesses were able to get the vehicle's license plate number, and police ran the vehicle's information and got the information of the car's owner, who was arrested several days later.
Steven Brent Brown, 39, of 1602 Old Denver School Road in Anderson, was charged with assault and battery of a high and aggravated nature and leaving the scene of an accident with personal injury.
According to arrest warrants, the victim suffered a broken nose, three broken teeth and bruising after being hit by the car.