Police looking for sex offender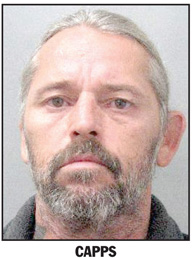 LIBERTY — The Pickens County Sheriff's Office is asking for the public's help to find a sex offender accused of assaulting a 16-year-old girl at a home in Liberty in June.
According to sheriff's office chief deputy Creed Hashe, James Monroe Capps III, 45, who has had addresses in Easley and Liberty, is wanted and on the run.
Capps is charged with first-degree criminal sexual conduct and third-offense failure to register as a sex offender,
According to a warrant, Capps — who was convicted of failing to register as a sex offender in 2010 and 2012 — is accused of sexually assaulting a girl by pinning her against a kitchen counter in June.
fter the girl escaped and fled to a bedroom, Capps allegedly pulled her onto a bed and tried to restrain her, but she was able to flee again, according to the warrant.
The warrant claims the alleged assault happened as the girl was babysitting a 4-year-old child.
Capps' address is listed on the criminal sexual conduct warrant as 339 Cartee Road in Liberty. On the failure to register warrant, his address is listed as 128 McGaha Road in Easley.
Anyone with information on Capps' whereabouts is asked to contact the sheriff's office at (864) 898-5500 or Crime Stoppers at 1-888-CRIMESC. Police ask residents not to approach Capps, but to instead notify authorities immediately.