Police: Man led chase on stolen motorcycle
CLEMSON — Clemson police are looking for the public's help in finding a man accused of leading officers on a chase on a stolen motorcycle.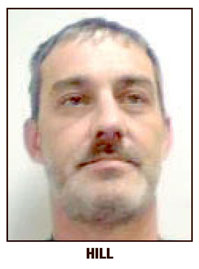 Benjamin J. (BJ) Hill, 39, is charged with possession of stolen goods, failure to stop and driving under suspension, second offense.
According to a news release from Clemson police chief Jimmy Dixon, officers received a report Jan. 6 of a 1999 Yamaha YZ4R6 motorcycle stolen from an apartment complex within the city.
On Saturday, a Clemson officer spotted a motorcycle being driven within city limits with a tag matching that of the stolen motorcycle, Dixon said.
During an attempt the stop the vehicle, the driver sped up to evade the stop, at one point stopping to allow a passenger to get off the motorcycle, according to police.
Although the man was able to elude officers, police were able to identify him and obtain warrants for his arrest.
Anyone with information on Hill's whereabouts is asked to call (864) 624-2000.