Police: Pair made meth in front of 3-year-old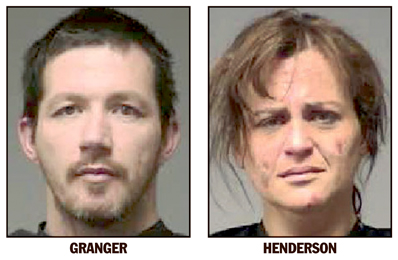 DACUSVILLE — Two people were arrested on multiple charges last week after police say they discovered the remnants of a methamphetamine lab at their home.
Pickens County Sheriff's Office chief deputy Creed Hashe said an investigation also revealed the pair manufactured meth in the presence of a 3-year-old child.
Bradley Joe Granger, 36, and Katherine Ann Henderson, 30, of 573 Franklin Finley Road, were each charged with unlawful manufacture of methamphetamine in the presence of a child, unlawful disposal of methamphetamine waste and distribution of methamphetamine, second offense.
According to warrants, deputies discovered the components of a meth lab in an burn barrel at the home while serving an eviction on Dec. 8.
Hashe said narcotics detectives investigating the case interviewed consumers of the product being manufactured at the home and learned Granger and Henderson were distributing the drug.
In addition, Hashe said, police learned Granger's 3-year-old child was present during the activity, and the Department of Social Services was contacted concerning the child's welfare.
Granger, who was arrested on Jan. 28, also faces one count of petit larceny, according to the sheriff's office's online records. He was being held Tuesday at the Pickens County Detention Center on a total $70,000 surety bond.
Henderson was arrested on Jan. 25 and faces additional charges of probation violation and driving under suspension. She was being held Tuesday at the Pickens County Detention Center on a total $30,000 surety bond for the methamphetamine-related charges and a $750 personal recognizance bond for the driving under suspension charge.