Police seek suspect in Saturday truck theft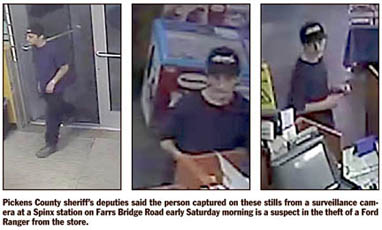 COUNTY — The Pickens County Sheriff's Office is asking for the public's help to identify a person suspected of stealing a vehicle from a gas station early Saturday morning.
According to a release from the sheriff's office, a 1999 Ford Ranger was taken from the Spinx gas station at 3785 Farrs Bridge Road in Easley, near the Dacusville community, at around 5:30 a.m. on Saturday.
The truck was found on Blackberry Road in Greenville County a short time after the theft from the Spinx station, according to the release.
The person abandoned a 1990 Honda Accord that was previously reported stolen from Greenville city limits, police said.
The person was captured on a surveillance camera inside the store, according to officers.
Anyone with information is asked to contact detective Anthony Raines at anthonyr@co.pickens.sc.us or (864) 898-5525, Crime Stoppers at 898-KOPS or call 1-800-442-CRIME.