Police: Sex offender tried to solicit minor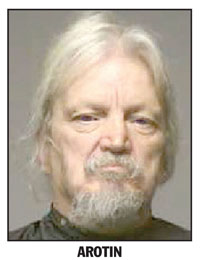 EASLEY — A convicted sex offender was arrested on multiple charges Sunday after police allege he sent text messages with photos of a young girl exposing her genitals and spoke sexually to what he thought was a 14-year-old girl.
Matthew Leon Arotin, 54, of 201 Barton St. in Easley, was charged with criminal solicitation of a minor, dissemination of obscene material and dissemination of obscene material to a person under 18.
According to Pickens County Sheriff's Office chief deputy Creed Hashe, officers received a tip on Nov. 4 that a man had sent a photo of a young child exposing her genitals via text messaging.
Hashe said sheriff's office detectives pretending to be juveniles engaged in additional text conversations with the man, identified as Arotin. Arotin, believing he was talking to a 14-year-old female, according to Hashe, tried to persuade deputies to have sexual relations with him.
According to an arrest warrant, police said Arotin made numerous reference to sexual activities he would like to perform on the person he believed to be a minor. Another warrant charges Arotin with sending an explicit pornographic image of a young female, presumably below the age of 10, showing her genitalia.
Arotin was convicted of solicitation of a minor in Abbeville County in 2009 and was placed on the Sex Offender Registry. He registered with the Pickens County Sheriff's Office in April of this year after moving to the county.
Hashe said Arotin was arrested at his home without incident and taken to the Pickens County Detention Center. Arotin was being held Tuesday on a total $60,000 surety bond on the three charges.
The investigation is still ongoing, according to Hashe, and a review of additional phone records will be conducted once the records have been obtained from the cellphone carrier.