PRA plans 'Main Street Challenge'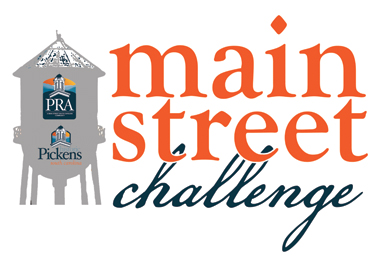 Competition offers new downtown
businesses chance to earn incentives
PICKENS — The Pickens Revitalization Association has launched a competition that gives new businesses a chance to earn thousands of dollars in incentives.
The "Main Street Challenge," based on a successful program of the same name in Spartanburg, is billed as "an entrepreneurial startup competition for the purpose of generating additional retail occupancy in downtown Pickens."
Officials said the challenge provides a means by which local, area and regional entrepreneurs can advance their desire to expand or open a new business in downtown Pickens.
For up to two winning entries, the Main Street Challenge program will offer $4,000 in incentives for startup businesses, which must then open a new location in downtown Pickens by Nov. 1, 2015.
The money offered to the winner or winners will take the form of a potentially forgivable loan, determined by the business' ability to meet all requirements of the program. Winning businesses may receive additional benefits, including assistance with branding, marketing, advertising, online presence and promotions, as well as accounting and payroll.
"We feel the Main Street Challenge, proven in the City of Spartanburg, is a perfect fit to jumpstart business in Pickens, thereby increasing the vibrancy of the overall downtown," PRA executive director Allison Fowler said. "Pickens is well on its way to becoming a destination for outdoor enthusiasts, and the Main Street Challenge is an effort to encourage community vibrancy and economic diversity in downtown Pickens as a place to eat, work and play every day and evening."
Business concepts eligible for the competition include new startup businesses, franchises, an expansion or relocation of an existing location from another community and a significant expansion of an existing local business that would branch into an additional business concept.
Pickens Revitalization Association has several goals connected with the Main Street Challenge program, which will be administered by the association's business development committee.
Goals include innovatively recruiting new business that will enhance the business mix in downtown Pickens, highlighting available downtown properties and increasing downtown retail occupancy, providing entrepreneurial businesses with financial assistance to launch their concepts, creating positive buzz about downtown Pickens, driving consumer traffic to downtown Pickens, creating new permanent leases in downtown Pickens and generating ideas, leads and other information to aid efforts to support job creation and revenue growth.
"The Main Street Challenge benefits our community by drawing out the best ideas for new businesses and enables the winning entrepreneurs to bring their plan to life," PRA board of directors president Patrick Lark said. "Pickens is ripe with ideas, but many entrepreneurs find the startup costs of creating their ideal business space too overwhelming. The Main Street Challenge is a catalyst to move these entrepreneurs from idea to reality, and the Pickens Revitalization Association is here to support and see the new business prosper through the crucial startup phase."
Initial applications are due on Feb. 10, with winners set to be announced on June 1.
For more information about the 2015 Main Street Challenge guidelines and application, visit www.historicpickens.com and click on Main Street Challenge. The application will be available beginning Jan. 5 online and in print form at the Pickens Revitalization Association office at 222 West Main St.