PS&L honors Singleton for half-century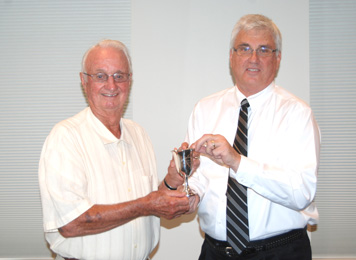 Courtesy Photo
Pickens Savings and Loan president Alex Gettys, right, presents the Half Century Silver Cup to PS&L board of directors chairman Billy Singleton recently.
PICKENS — Pickens Savings and Loan board of directors chairman W. C. (Billy) Singleton was recently awarded the Half Century Silver Cup by bank president Alex Gettys.
The award is given by the South Carolina Bankers Association to all employees and directors who have been in banking for 50 years.
Singleton joined the board of directors of Pickens Savings and Loan in 1963. At that time, the bank had $4 million in assets and just two employees, and was located at 115 East Main Street in Pickens. Board members were W.E. Findley, E.C. Garrett, H.L. Bivens, Fred G. Stewart, Earle E. Morris, Sr., Felix L. Finley, Jr., and Dwight A. Holder. Jack D. Tinsley joined the board the next year and continues to work alongside Singleton.
Singleton and the other directors guided the bank through various economic cycles, and the bank now has $95 million in assets and 20 employees.
The bank's operations have also changed significantly. In 1963, savings and loans could only offer savings accounts and mortgage loans. Today, the bank offers a full line of financial services.
During Singleton's tenure, he has witnessed every other bank in Pickens either change ownership at least once or close its Pickens office.
Singleton and the other board members believe that Pickens deserves a community bank. While the operations of a small community bank remain challenging, the directors and employees of Pickens Savings and Loan are committed to continuing to provide outstanding service to the local community. This commitment is possible due to the leadership of Singleton, who can now boast a full 50 years of on-the-job experience.