Rams dominate Pickens in return to Bruce Field for regular-season finale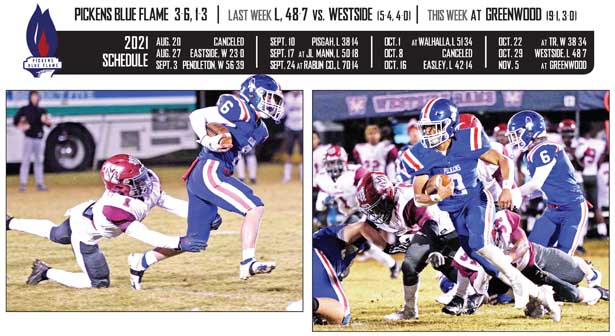 PICKENS — In what felt like an echo of years gone by, the Pickens Blue Flame put on their pads, donned their all-
blue uniforms and marched down the hill at the legendary Bruce Field for the first time in many years to face the Westside Rams for the final game of the 2021 season on Friday night.
The excitement was magnified by the fans sitting in a familiar spot to see the Blue Flame play on the historic field.
"I didn't think how much it would mean to me until we

were actually out here and the game started," Pickens head coach Chad Smith said after the game.
Smith, a former Blue Flame player himself, played many a game on Bruce Field.
"I had all kinds of memories rush back to me when we came down the hill," Smith said. "It was special. It was really cool. I didn't think I was going to have that reaction to it, but I did."
Pickens was forced to play its final game at Bruce Field, now owned by the city of Pickens, because of water issues on the home turf at Pickens High School.
However, what started out as a dream at the old stadium soon turned into a nightmare
You must be logged in to view this content.
Subscribe Today or Login