REAL ID deadline extended
WASHINGTON, D.C. — Residents in South Carolina and across the nation will have an extra year to meet the enforcement deadline to obtain a REAL ID to board planes, enter federal buildings or visit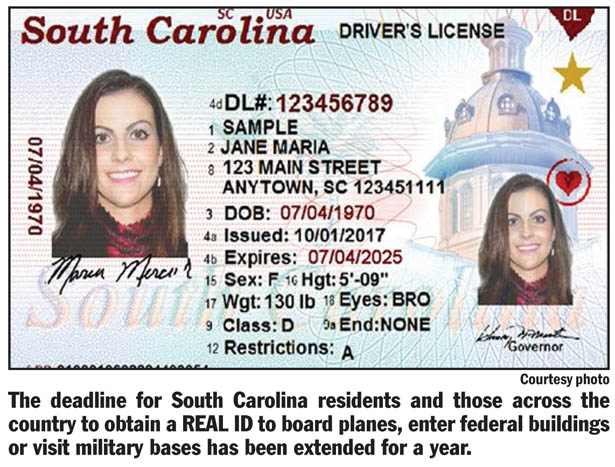 military bases.
Acting U.S. secretary of Homeland Security Chad Wolf announced the deadline postponement for REAL IDs Thursday, pushing the deadline to Oct. 1, 2021.
"Due to circumstances resulting from the COVID-19 pandemic and the national emergency declaration, the Department of Homeland Security, as directed by President Donald J. Trump, is extending the REAL ID enforcement deadline beyond the current Oct. 1, 2020, deadline," Wolf said. "The federal, state and local response to the spread of the coronavirus here in the United States necessitates a delay in this deadline. Our state and local partners are working tirelessly with the administration to flatten the curve and, therefore, we want to remove any impediments to response and recovery efforts.
"Extending the deadline will also allow the department to work with Congress to implement needed changes to expedite the issuance of REAL IDs once the current health crisis concludes," he added. "Protecting both the health and national security of the American people continues to be the top priority for the president of the United States and the Department of Homeland Security."
The REAL ID card is already available and will eventually be required to travel by plane on a domestic flight or enter a military base or federal building. It has a gold star on the right side of a driver's license or identification card. If someone chooses not to have the REAL ID, a driver's license or state identification card says, "Not for federal identification." Both versions of driver's licenses cost $25 and are valid for eight years, according to the S.C. Department of Motor Vehicles.
The federal REAL ID Act became law in 2005 after a recommendation by the 9/11 Commission that the federal government «set standards for the issuance of sources of identification, such as driver›s licenses,» according to the U.S. Department of Homeland Security.
The act established minimum security standards for state-issued driver's licenses and identification cards and prohibits federal agencies from accepting for official purposes licenses and identification cards from states that do not meet these standards.