Red Devils come up short at Ninety Six
By Jimmy Kirby
Courier Sports
jkirby@thepccourier.com
Ninety Six — Ninety Six set the tone for the game with its opening drive, and Liberty played catch up all night as the Wildcats won a hard-fought 24-17 battle on Friday night.
It didn't help that Liberty turned the ball over four times on two fumbles and two interceptions in the game.
The Wildcats went on a 63-yard drive following a 35-yard Josh Gonzalez kickoff return to open the game. Josh Kooker scored from 4 yards out for a 7-0 lead.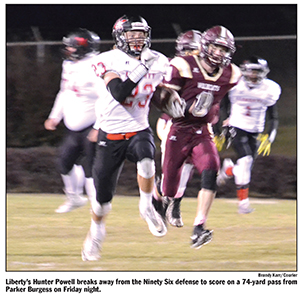 Kooker and quarterback Evan Keller carried on every play of the series, as the Red Devils didn't have an answer defensively to open the game.
The Wildcats' gameplan worked to perfection to start the game.
"They came out in different sets than they had showed on film," Liberty coach Kyle Stewart
You must be logged in to view this content.
Subscribe Today or Login