Red Devils pleased with season so far
By Jimmy Kirby
Courier Sports
jkirby@thepccourier.com
LIBERTY — Heading into the 2016 football season, there was a tone of optimism from Liberty head coach Kyle Stewart about what lay ahead for his squad.[cointent_lockedcontent]
That could have been just coachspeak, since a coach always wants to believe in his team, or maybe he had a hunch that his team really had a chance to be pretty good.
Coming off a 2015 season that ended with a 2-8 record and a struggling offense, the Liberty faithful just had to hope that there would be improvement.
Now with just four regular-season games remaining and sporting a 5-1 record, Stewart's optimism has turned into reality. The Red Devils have one remaining non-region game this week as they travel to take on the Crescent Tigers.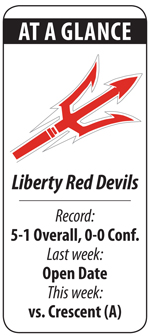 There appears to be three reasons why the Red Devils are vastly improved this season. The first and foremost reason is that a core group of seniors has led the way and provided leadership to get the job done.
Stewart said coming into the season that he had about 12 seniors who had played together all four years and that they had a special quality about them. He said they make his job much easier because they are coaches on the field. They help each other and hold one another accountable.
The second reason is that defensively the Red Devils are prepared each time they step out onto the field. They are allowing just 16.2 points per game. They have allowed a grand total of 437 yards rushing through six games for an average of 72.8 yards per game. They are also holding opponents to less than 200 yards of total offense every week, with just 194.8 yards per game.
Communication and preparation have been the key for this Red Devil defense. Four of the six teams faced have been a spread passing-oriented attack. Very few blown coverages have been allowed by the defense. They have seven interceptions in the six games played.
The third reason is that Stewart has seen maturity in both of his quarterbacks in the passing game. The Red Devils passed for a grand total of 205 yards in the 2015 season. Through the first six games of the 2016 season, the Red Devil duo have totaled 671 yards on 46 completions in 90 attempts, with just five interceptions and six touchdowns. Nick Reeves has 511 yards and five touchdowns passing, while Austin Huey has added 150 yards and one score.
The ground game has been steady enough, if not sensational. Cavaugio Butler leads the Red Devils with 423 yards on the season and a team-high seven touchdowns. The next closest is Kevon Tabron with 176 yards, Clay Lollis with 155 yards and Huey with 123 yards rushing.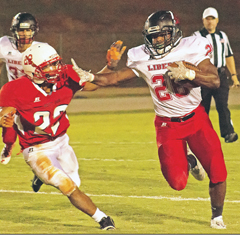 Overall the Red Devil offense is averaging 171 yards on the ground per game and 24.7 points per game this season.
Stewart said last week's bye week "came at a good time."
"It is an opportunity for us to revisit some things from early in the season, get our legs back, heal up some bumps and bruises, and work on fundamentals," he said.
Doug Tate/Photo
Liberty's Cavaugio Butler stiff-arms a West-Oak defender during their game Sept. 23. Butler leads the Red Devils with 423 yards and seven touchdowns on the ground through the first six games of the season.
Following the Crescent game this week, the Red Devils will play a total of three region games starting on the road against perennial powerhouse Abbeville. They then conclude the season with home games against Ninety Six and Southside Christian.
"We play four very tough opponents the next few weeks," Stewart said. "We need to perform well against all of them.
"The region games are most important. One of our goals is to host a home playoff game, so this will be a part of the season that requires mental focus and preparation."
The open date has allowed some players who were banged up to heal and get ready for the stretch run.
"The bye week hopefully has been good to us, and we come in this week to prepare for Crescent with renewed energy," Stewart said.
Whether it be by design or by surprise, all Liberty fans are excited about the success the Red Devil team has accomplished so far in 2016.[/cointent_lockedcontent]