Red Devils roll to win over West-Oak
By Jimmy Kirby
Courier Sports
jkirby@thepccourier.com
Liberty — It didn't take Liberty long to take the lead Friday night against West-Oak as just 15 seconds into the game, the Red Devils scored on a 26-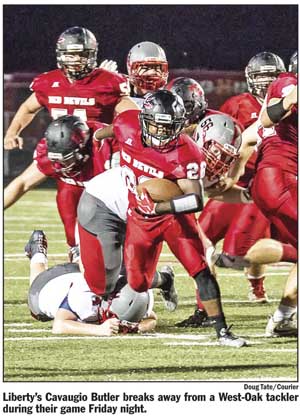 yard fumble return by Luke Terry.
The score was enough to win the game, but the Devils kept piling on to roll to a 44-0 victory over the winless Warriors to improve to 4-2 heading into the second half of the regular season.
Terry recovered a West-Oak fumble on the first play of the game and raced untouched to give Liberty the lead for good.
The Red Devils extended the lead to 16-0 in the first quarter thanks to a safety and a 9-yard Kevon Tabron touchdown run.
While the Warriors gave a determined effort, they were unable to put up
You must be logged in to view this content.
Subscribe Today or Login