Red Devils shut out by Ninety Six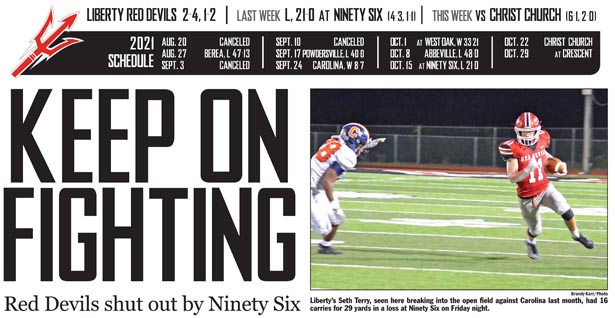 By Clay Hamlett
Courier Sports
news@thepccourier.com
NINETY SIX — For the second straight week, coach Paul Sutherland's inaugural season at Liberty hit a bump in the road.
Although the game felt closer than the final score
indicated, the Red Devils were shut out 21-0 by the Ninety Six Wildcats, dropping Liberty to 2-4 on the year.
It was a game defined by big plays for both teams, as the Wildcats capitalized on long touchdown passes and a couple crucial errors by the Red Devils doomed their chances.
Liberty's opening kickoff got the action started for the Ninety Six offense at its own 35-yard line. Despite the decent field position, a holding penalty and an incompletion on third down led to a quick three-and-out.
In the previous game, running back J.J. Hernandez had received the majority of the
You must be logged in to view this content.
Subscribe Today or Login