Red Devils shut out on soggy road trip to St. Joseph's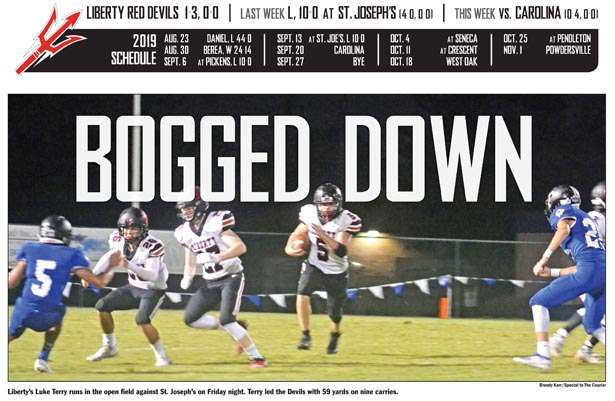 By Clay Counts
Special to The Courier
claycounts21@yahoo.com
GREENVILLE — Rolling thunderstorms threw a curve ball into Friday night football plans across the Upstate, but after some

doubt, the Liberty Red Devils were able to take the field on the road at St. Joseph's late Friday night.
They may have wished they hadn't.
In a soggy, plodding, rain-delayed and shortened game in Greenville, the Knights completely shut down the Liberty offense to come away with a 10-0 win.
After a lengthy delay before the game even kicked off, officials elected to abbreviate the game with 10-minute quarters and a 10-minute halftime, but even more than causing the delay, the weather played a major factor in the game by making the ball hard to hold on to for both teams.
The two teams combined for 10 fumbles — five apiece — and the Devils lost possession all five times they put the ball on the ground.
"Turnovers killed us," Liberty coach Kyle Stewart said after the game. "It's never
You must be logged in to view this content.
Subscribe Today or Login