Red Devils struggle to keep up with Pickens in loss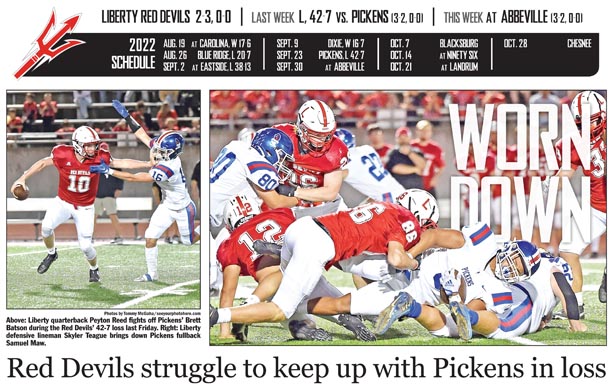 By Matthew Kannarney
Special to The Courier
news@thepccourier.com
LIBERTY — Despite a week off to try to get healthy and prepare for a matchup against county rival Pickens, the Liberty Red Devils had no answers for the Blue Flame on either side of the ball in a 42-7 loss on Friday night.

The Blue Flame dominated on both sides of the ball, quieting the Red Devils on offense and wearing out their defense most of the night to hand Liberty its third loss of the season.
The Red Devils, who are a young team to begin with, have been dealing with injuries since the beginning of the season, especially on
You must be logged in to view this content.
Subscribe Today or Login