Red Raiders start hot to beat Pickens
By Cole Little
Courier Sports
news@thepccourier.com
PICKENS — It was a tale of two halves on Friday night as the Greenville Red Raiders blew past Pickens in the two teams' Region I-4A opener, 42-14.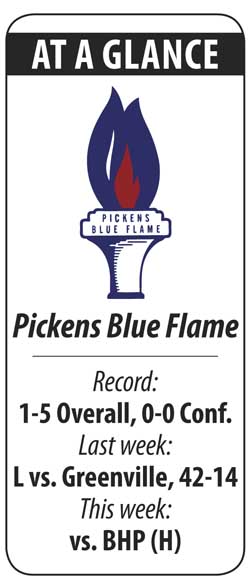 Giving up 35 points in the first half, the Blue Flame were essentially done in by two costly turnovers and spotty secondary play early in the game. Despite having possession of the football for nearly 16 minutes in the second half and stringing together multiple quality drives, Pickens, with its time-consuming, run-oriented offense, was unable to mount a serious comeback.
While the final score was certainly indicative of a blowout, the contest did not exactly play out like one, as Pickens put together several solid drives and limited Greenville on the defensive side of the ball throughout the second half. Gaining 274 yards of total offense, the Blue Flame were led by a two-headed rushing attack of fullback Bryson Capps and wingback Jarod Barton, who ran for 58 and 67 yards rushing, respectively.
"Honestly, I think that we got better," Pickens head coach Chad Smith said after the game. "I hate losing, but I'm unbelievably proud of our kids. We hung in there, and we dominated the second half. And if we can do that against (Greenville), we can do that against anybody. We just have to get out of our own way."
Haunted by turnovers, an unfortunate theme of Pickens' season thus far, the Blue Flame coughed up two fumbles in the first half, leading directly to 14 points for the Red Raiders. In fact, four of Greenville's six touchdowns on the night followed Blue Flame
You must be logged in to view this content.
Subscribe Today or Login