Rejuvenating a landmark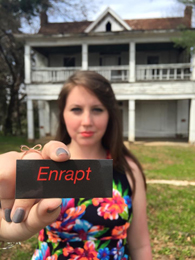 Breann Griffin-Nicholson, who will direct the first production at the new Enrapt theater and arts center in downtown Pickens, stands in front of the historic Bradley-Boggs House, which will house Enrapt.
Historic downtown home to become new Pickens theater and arts center
PICKENS — The historical Bradley-Boggs House is currently being renovated to house Enrapt, Pickens' first theater and arts center.
Enrapt will be a place that provides cultural entertainment in the forms of live theater and supporting art communities through classes, workshops, space availability and production. Enrapt will be a place where everyone feels at home and where everyone can create and be inspired. Enrapt will be a place that not only recreates history but also creates the future of Pickens.
The facility is being formed to bring innovation and inspiration to the developing arts through a unique development in a historic Pickens location. Through outdoor theatre, arts learning and showcasing areas and production facilities, the project has the potential to spearhead an arts renaissance in the city.
With access to one of the most significant historical sites in Pickens, the Bradley-Boggs House, the home of Enrapt will be the centerpiece location for art projects including co-operative projects, music creation, hands-on art development, live acts and theatre production.
The concept will begin to take shape with the fall production of Thornton Wilder's "Our Town," directed by Breann Griffin-Nicholson. "Our Town" will be produced on Sept. 17, 18 and 19 at 7 p.m. on the front lawn of Enrapt.
Admission will be free, but donations will be greatly appreciated. Concessions will be sold.
Enrapt is located at 118 W. Main St. in Pickens.