Rivalry set to help kick off high school football season on Friday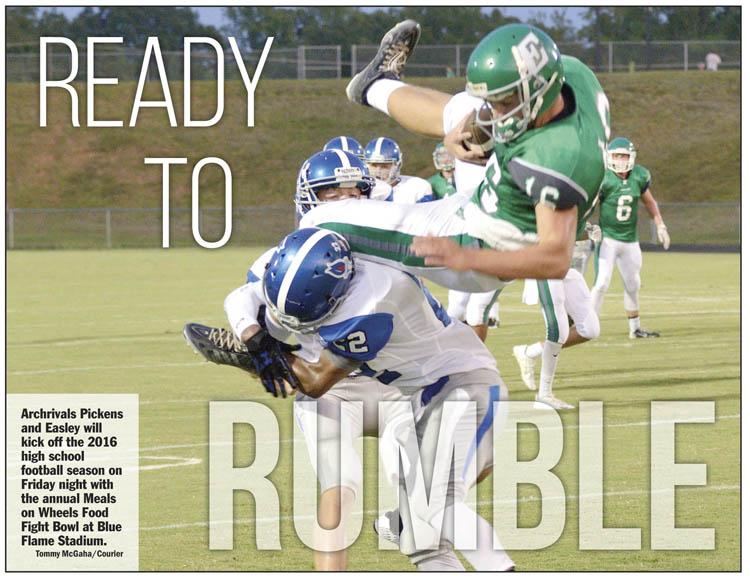 PICKENS — High school football season has arrived, as the 2016 season will kick off this Friday when Pickens hosts Easley in the ninth annual Sam Wyche Meals on Wheels Food Fight Bowl.
Liberty will also open its season Friday night with a visit to Pendleton, while Daniel will kick things off as former Lions head coach Randy Robinson brings his new Berkeley team to Central.
To read previews for all four Pickens County high school teams' seasons, check out the first edition of the Pickens County Courier's Football Frenzy inside today's issue.
In the first eight years of the Food Fight Bowl, Easley holds a 5-3 advantage on the field — winning the last five in a row.
The winner earns the coveted Food Fight Bowl trophy, made from the top of the trophy Wyche received in 1988 as NFL Coach of the Year.
Pickens County Meals is in desperate need of volunteers to help with deliveries for exiting routes in Pickens and Central, and a new route that is being formed in the Easley area.
In 2008, the Meals on Wheels Food Fight Bowl was designed to harness the rivalry between Easley and Pickens high schools into a signature fundraising event for Pickens County Meals on Wheels.
PCMOW has also been proud to have the support of Save-A-Lot of Pickens over the years.
 Dwayne Goodwin, president of Goodwin Holdings Group, which owns Save-A-Lot of Pickens, said Meals on Wheels and its team of volunteers "plays a critical role in feeding and caring for the elderly and disabled in Pickens County."
"Volunteers and donations are always needed," he said. "I am happy to support the important work Meals on Wheels does in our community every day."
To make a donation, visit pcmow.org or mail a check to Pickens County Meals on Wheels 349 Edgemont Ave. Liberty, SC 29657. Call Meta Bowers at (864) 855-3770 ext. 303 or email meta@pcmow.org with any questions.
Pickens County Meals on Wheels is exclusively focused on addressing the needs of seniors in Pickens County. Its goal is to provide a continuum of care for active, aging and homebound seniors throughout Pickens County. By connecting individuals to the services they need, when they need it, they are able to help hundreds of seniors maintain their nutritional health, independence and quality of life each year.