SC House includes another raise for teachers in budget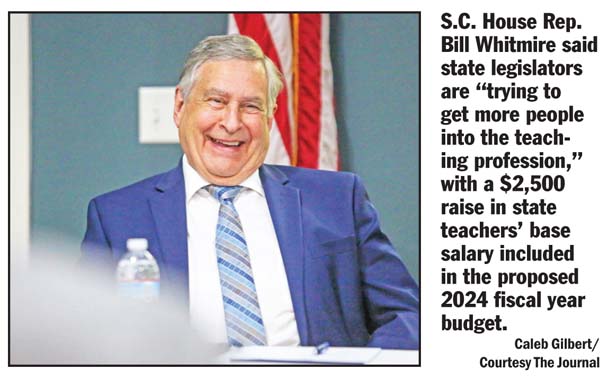 By Andrea Kelley
Courtesy The Journal
akelley@upstatetoday.com
COLUMBIA — Teachers across South Carolina could see another pay raise if the State House of Representatives has its way.
The House budget for fiscal year 2024 includes a $2,500 raise in teacher salaries, bringing the minimum starting salary up to $42,500,
You must be logged in to view this content.  
according to Rep. Bill Whitmire of Walhalla, who represents most of Oconee County and the northwestern corner of Pickens County.
"We're trying to get more people into the teaching profession," Whitmire said last week. "We have had so many people opt out, especially younger teachers. I think I was told last year 20 percent of all new teachers don't make it past five years in the profession, so that's very concerning. And we were short 1,200 to 1,500 teachers at the start of last year, I think, statewide.
"I don't think that's a real issue up here, but you go down to the lower part of the state and they are really struggling to find teachers there," he added. "They don't have a local supplement like we do here in Oconee and Pickens and Anderson and Greenville counties, so it's hard."
The School District of Pickens County salary schedule lists a starting salary of $41,492 for first-year teachers, and the district's employment webpage showed more than 50 open positions as of last week.
School districts are required to meet the statewide minimum salary schedule in the current fiscal year and provide the annual step increase, according to the budget, but do not have to increase salaries above that amount.
Boosting other  school positions
The House budget also includes a 20 percent starting pay increase for bus drivers, Whitmire said, and provides enough funding to have a school resource officer in every school in the state.
The Ways and Means Committee, which Whitmire sits on, is also working to make sure districts can afford to have a nurse in each school.
"We had a very good budget. I can say it — I'm over public education," Whitmire said, laughing.
His tone then turned serious as he brought up the battle with the private sector to keep state employees, including school employees.
"Private sector comes in and offers these folks more money, and you can't blame them. They're going to go where the money is," he said. "Keeping folks is not easy.
"They deserve (the raise), because it is a tough profession now with all the different issues," Whitmire added. "It didn't used to be that way, but it's gotten to be very hard, so I really respect folks that go into it."
The budget was passed by the House on March 15 and headed to the Senate.