SCDNR: No birdfeeders if a black bear comes to visit
STATE — Biologists with the South Carolina Department of Natural Resources are reporting increased black bear activity throughout the state, and they urge people who live in these areas of bear activity to remove their birdfeeders.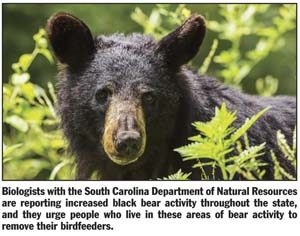 Black bear breeding season has bears on the move, and with a smaller-than-anticipated blackberry crop this year, bears are hungry and looking for an easy meal. Bird feeders in people's yards are among the favorite targets of black bears.
"If a bear has been reported in your area, go ahead and take
You must be logged in to view this content.
Subscribe Today or Login