School board OKs new prayer policy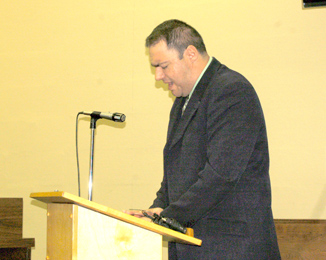 By Nicole Daughhetee
Courier Staff
COUNTY — Despite the final pleas of a group of concerned residents, the School District of Pickens County's board of trustees voted Monday night to adopt an amended policy on public invocations prior to meetings.
The measure, passed 3-2-1 with yes votes from board chair Judy Edwards, Alex Saitta and Dr. Herb Cooper and opposed by trustees Ben Trotter and Jim Shelton — with Jimmy Gillespie abstaining — means board meetings will now be opened with a "non-sectarian" invocation that will no longer be led by SDPC students.
Instead, board trustees will be given the opportunity to deliver the opening invocation.
Several people utilized their time during the citizen input section of the agenda to offer prayers in the name of Jesus. Others continued to urge board members to fight the Freedom from Religion Foundation (FFRF), even if that would require the SDPC fighting a lawsuit in court.
"We're giving up without a fight," said Junius Smith of Conservatives of the Upstate. "We are due for a fight here in this country."
Dan Holtel, another local resident who has attended each board meeting pertaining to amending the prayer policy, offered board members a proposal for an amendment to their policy under which the invocation would be led by someone from among the established religious congregations in the Pickens County community.
"This is a situation where all can be satisfied with the result. The school board will have adopted a policy that stands side-by-side with State and Federal laws," Holtel said. "The citizens of Pickens County will have closure as this matter is resolved and they won't feel alienated as they will still be participating in the governmental process."
Board member Alex Saitta made a motion to send Holtel's suggestion to policy committee for review; however, since the board adopted the amended policy, whether or not Holtel's policy proposal will be considered at a later time remains unknown.
Prior to the vote on the amended prayer policy, Shelton made a motion, with a second by Trotter, to table the vote for a later date so new information, like Holtel's revision suggestions, could be considered.
"I think in light of recent developments — those developments being today — that the board has had four months to consider since the letter came in from the FFRF group, we've basically had 15 minutes to consider alternate courses of action," said Shelton. "I think it's only fair to the public. We also had a member of the public tonight recommend some changes to the policy as well. I think it is in our best interest to explore this further before we make a decision."
Shelton's amendment failed.
"I've spent the last four months looking over all this. I just don't see anything new here," said Saitta. "I'm not happy with most of the court cases in this country the last 50 years, and the liberalization of our court system. However, when you are facing a lawsuit, what matters is how the courts have ruled. Non-sectarian prayers to God Almighty, Heavenly Father or Lord are constitutional. This is also the opinion of our attorneys, the state attorney general and groups like the ACLJ (American Center for Law and Justice)."
Gillespie also spoke to the public, saying that he was going to break every rule in the book.
"You tell me I have the support of the community, but all I've seen and heard are angry words and sarcasm," Gillespie said. "Everybody says 'Where's your backbone? If you aren't going to put up your house and your property, then where is your backbone?'
"You tell me that God won't let us lose, but He let Chesterfield and Forsythe County lose. The real reason all this is going on is because some Yankee group up in Wisconsin says you can't do it. And that's really what's going on."
Trotter said that he could not vote for the amended policy because he simply was not brought up that way.
"I believe there is only one way to pray. You go to the Father through the Son," said Trotter. "In my upbringing as an old country boy, I cannot vote for this policy and I just want you to know why."
Shelton, whose motion to table the amendment failed, also offered words to the public prior to the final vote.
"What good is it for someone to gain the whole world yet to forfeit their soul? Ladies and gentlemen, the soul that has been forfeited here tonight is not us, it's you," said Shelton. "This board has sold your soul to protect themselves."