Secret Santas pay off lunch bills at elementary schools
COUNTY — An act of Christmas kindness that began at an Easley elementary school has spread to other schools in the district.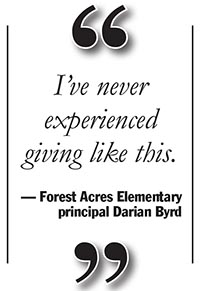 Forest Acres Elementary School principal Darian Byrd said he was contacted by someone several weeks ago who felt moved to give.
Byrd and the benefactor spoke about what the person could do "to directly help kids."
"We just started talking about lunch," Byrd said.
For some of the school's students, the two hot meals they get at school each day may be
You must be logged in to view this content.
Subscribe Today or Login