Semper Fi Barn offers place of respite for vets
CENTRAL — A new place of respite for veterans was a gathering site last week to remember the 895 South Carolina service members who died in the Vietnam War.
At his property on Furman L. Smith Memorial Highway in Central, Semper Fi Barn CEO and founder Tom von Kaenel welcomed more than 150 people to remember National Vietnam War Veterans Day last Wednesday, marking 50
You must be logged in to view this content.  
years since the last American combat troops were withdrawn from the country in a war that divided many. Von Kaenel and others stamped out 895 dog tags to hang on the front of a restored barn that also has as an armed forces tribute memorial wall of maps, medals and war heroes, along with three bunkrooms and a bathroom. He said of the 895 killed in Vietnam, there were 38 men killed at the age of 18, and 718 of those killed were 25 years or younger.
Von Kaenel, a 20-year Army veteran who served from 1977-97, said the tribute and barn were a "labor of love." He said three Marines came up to him and said that if he provided the material, they would put in the labor to build the barn.
"You're seeing the folks now that are finally getting their due and their credit and understanding what's so very important for the rest of us," von Kaenel said. "It's a great opportunity to honor these veterans and let the younger people know how important it is that we do honor them."
He clearly values his military ties, with his father serving in World War II and Korea, a son in Afghanistan, Syria and Iraq and a grandson in Afghanistan.
'Time to remember'
Retired Marine Col. Philip Smith, a Semper Fi Barn board member, said the nonprofit was created about a year and a half ago with the goal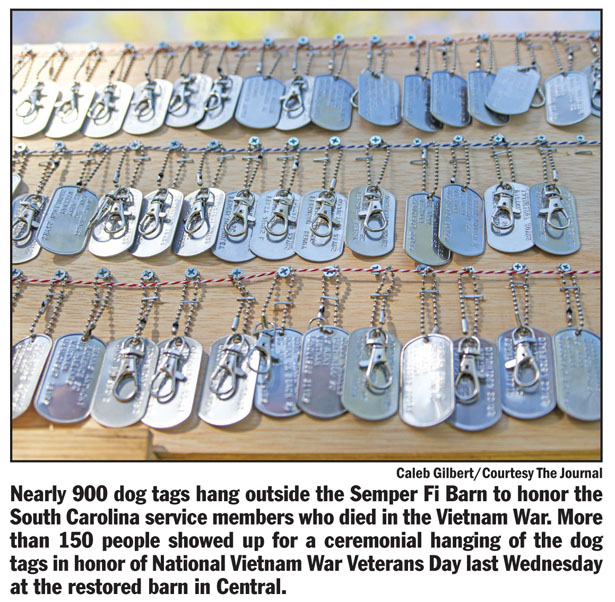 of creating a "place for any veterans and their families to come and hang out and rest, relax, remember and take a break from whatever ails them."
He said he believed Vietnam veterans were treated poorly upon their return home, and the country has since "done a lot of things now to make up for the sloppy treatment" of them.
"It's a pretty neat ceremony where we are specifically remembering that person on the dog tag and their family member if they are here," Smith said. "We hang the dog tag, ring a bell, and it's a good time to remember."
Von Kaenel said he hoped veterans would be able to share about what troubled them or memories they had in a more open environment by a fire pit or in the tranquility of the woods.
"We've had veteran cookouts here," he said. "It's a place for them to recharge themselves. They can stay in the barn for up to three days (at no charge)."
There are even walking trails and chickens around to feed, he added.
"It's so important we have this kind of atmosphere," von Kaenel said.