Serve your peppers – hot or not
By Olivia Fowler
For the Courier
ofowler@thepccourier.com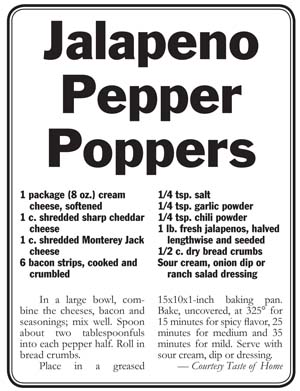 There are many different varieties of peppers on the market, and different levels of heat for each variety.
This week, we feature recipes with very mild to hotter peppers. The jalapeno poppers are the hottest dish featured, then the stuffed Poblano, the baked banana pepper poppers and the mildest sweetest recipe, the stuffed pimento peppers.
We are very fortunate in having access to many varieties of peppers brought to America from other countries, and we enjoy them prepared many different ways.