Shannon Haskett seeks District 3 Pickens County School Board seat
Pickens — Pickens-area businessman and community leader Shannon Haskett has filed to run for the District 3 seat on the Pickens County Board of Education. Haskett is a lifelong resident of Pickens County and a 1990 graduate of Pickens High School. He is married to Maria Baldwin Haskett, a graduate of Liberty High School and Erskine College.
He graduated from The Citadel in 1994 with a degree in mathematics, and today he is the father of two and an involved parent and member of the Parent Teacher Association at Ambler Elementary school. His daughter is a rising third grader at Ambler and his son will attend Pickens Middle School as a sixth grader this coming school year. He and his family attend East Pickens Baptist Church.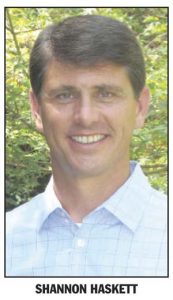 Haskett is sales manager of Graceland Portable Buildings. In his work life and his personal life, he is proud to have earned a reputation for being a team player and a bridge builder.
"I plan to devote my time and talents to work on behalf of the people of Pickens," said Haskett. "There is an opportunity for the District 3 school board member to truly collaborate with our appointed and elected officials throughout Pickens County so that working together, we can make the School District of Pickens County the most financially stable and educationally advanced school district in South Carolina."
Haskett's five-point plan for schools is:
People before politics: Putting children first starts with individual accountability, not government intervention.
Fiscal responsibility: Long-term budgeting is good practice in our school district, just as it is in our personal and professional lives.
Private/Public Partnerships: Industry and non-profits can provide additional education dollars to offset our property tax burden, while supporting technology in our classrooms.
Investing in students: Keeping class sizes small while recruiting and retaining the best and brightest teachers will net the biggest returns on our educational investments.
Transparency in government: We should employ technology to make school board deliberations more widely available to the public.
When the School District of Pickens County was faced with closing several of Pickens-area schools this past spring, Haskett served as chairman of a committee of stakeholders concerned about closing valued community schools.
"I invested time and energy to understand the issues facing our school district and then I worked on behalf of our teachers and parents on ways to invest in our schools while reducing our property tax burden on businesses and homeowners," Haskett said. "There is now an opportunity to work on solutions like these and others in a more formal capacity with the benefit of longer-term planning as a member of the school board. So at the urging of friends, family, and members of the education and business community in Pickens, I am seeking the District 3 seat."
To learn more about Haskett, visit ShannonHaskett.com or facebook.com/Shannon4Schools.