Shugart elected to American College of Healthcare Executives Council of Regents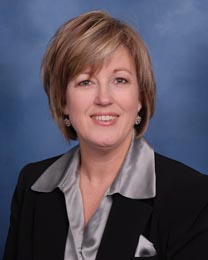 CHICAGO — Susan C. Shugart, FACHE, Chief Administrative Officer of Baptist Easley Hospital, has been appointed to the Council of Regents, the legislative body of the American College of Healthcare Executives.
The Council of Regents serves as the vital link between ACHE and members by approving governance and membership regulations as well as promoting ACHE programs, services, and activities within their respective areas.
Shugart will take office at the Council of Regents meeting March 22, 2014, during ACHE's 57th Congress on Healthcare Leadership at the Hyatt Regency Chicago. As a Regent, Shugart will represent ACHE's membership in South Carolina.
Before coming to Baptist Easley Hospital, Shugart served as Chief Operating Officer of Clarendon Health System in Manning, SC. Shugart is completing a two-year term as President of the SC Chapter of the American College of Healthcare Executives. She has been board certified in healthcare management as an ACHE Fellow since 2007.
Shugart received her master's degree in Human Resources Management from Darla Moore School of Business at the University of South Carolina and her bachelor's degree from Furman University.