Six Mile Farmer's Depot growing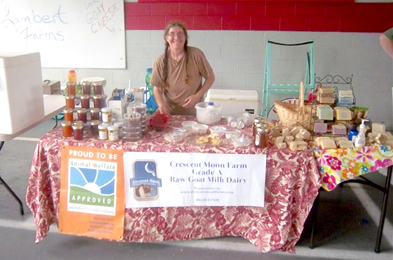 Lois Ryan of Crescent Moon Farm smiles recently at the Six Mile Farmer's Depot.
SIX MILE — The Six Mile Farmer's Depot, located at the old fire house in downtown Six Mile, strives to provide locally produced agricultural products and provisions for the residents of the Six Mile area.
The Farmer's Depot is an indoor market that runs from 4-7 p.m. on Thursday afternoons, rain or shine. The market will be open on Thursdays through Oct. 24, as well as Nov. 21.
A free customer appreciation BBQ will be held on Oct. 24 at the market, which will resume in the spring of 2014.
Six Mile mayor Roy Stoddard feels that the Farmer's Depot provides a "sense of place for our area, based on its agricultural history."
Lois Ryan of Crescent Moon Farm, an artisan goat diary offering goat's milk, cheese and soaps, agrees.
"It creates a sense of community," she said. "You just feel safe shopping here and you get to know the farmers who bring the food to your table."
"It is all about eating locally and seasonally," said Bill Walldorf, a bird house/feeder vendor.
Town Councilman James Atkinson said the market brings health and food system conscious shoppers to downtown and provides a place to socialize.
"For those unfamiliar with the seasonal favorite, muscadines, you should talk to Ann Miller of The Happy Berry, she will give you a recipe book on how to make the best darn hull pie or cobbler," Walldorf said.
Jerry Lambert of Lambert Farm, selling eggs, vegetables and jams, said food safety is another selling point.
"There's nothing like being able to talk with your grower about how he or she produces your food," Lambert said.
The Happy Berry's Walker Miller said the market is all about local provisioning.
"I believe global warming likely will bring an end to global provisioning as we know it today, and the stress that it causes will bring about social fracturing," he said. "That is why it is so important, as a community, we promote markets like the Farmers Depot."
The Farmer's Depot has a variety of vendors. Twenty-seven vendors have participated so far this year, although seasonal availability may limit attendance on any given Thursday. A limited number of craft vendors also provide handmade wood and value-added products and other crafts.
Organizers intend for the market to continue to grow.
"We need more customers; without customers, the vendors can't afford to come, and without vendors the customers do not come," Ann Miller said.