Six Mile remembers an ambassador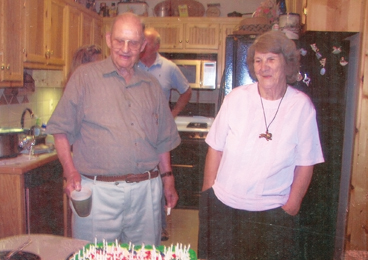 Bill and Ruby Holder will be honored at a tribute event in Six Mile on Sept. 27. Bill passed away June 6, two days after his 98th birthday. 
Family plans drop-in
event to honor Holders
SIX MILE — According to family members and friends, Bill Holder was a Six Mile ambassador.
Wherever he traveled, he proudly spoke of living in Six Mile and always held the town and its residents in the highest of regards, his granddaughter, Rigel LeNart, said in a recent letter to Six Mile Town Council.
To Holder, Six Mile was "the Big Apple," LeNart wrote.
"Six Mile events were his 'jet-set,' and therefore, Six Mile and its residents were his people — his family," she wrote. "Bill Holder WAS Six Mile and everything that encompassed Six Mile."
With that in mind, family members have planned a memorial event to celebrate Holder — who died on June 6, just two days after his 98th birthday — and honor his surviving wife, Ruby.
All friends and family members are encouraged to attend the drop-in event, scheduled for 11 a.m.-3 p.m. on Saturday, Sept. 27, at the Roper Building across from Six Mile Baptist Church on Main Street. Guest speakers, including Six Mile town councilman James Atkinson, will address those in attendance at 11:30 a.m. Refreshments will be served.
Holder was a successful businessman and humanitarian, working as a licensed electrician and plumber well into his 80s. Oftentimes, he worked for families in need for little or no pay.
Holder, who was on the front lines for some of the most newsworthy events in Six Mile history during his nearly 100 years living in town, was the subject of many newspaper articles and television news stories throughout his life.
Among the many enthralling stories he told, Holder provided first-hand accounts of a devastating 1929 tornado that killed nine people and leveled much of the town.
Holder was 12 years old and living about two miles from downtown Six Mile when the storm hit. He remembered the sights and sounds of that night vividly, even more than 80 years later.
"My mother said the world was coming to an end," Holder told those in attendance at a ceremony honoring the tornado's victims in 2012.
Holder and his father, a veterinarian, took the family wagon to town and helped search for survivors.
"Houses, nails … everything was in the roadway," he said. "People everywhere were hollering 'Help me! Help me!'"
Newspaper clippings and mementos featuring Holder will be on display at the memorial event.
Also on display will be a sculpture made out of a pair of authentic World War II practice bombs Holder found and refurbished near his home, in the area known as the "Bombing Range," located in the Issaqueena Lake area just outside Six Mile.
Holder fashioned the bombs into working light fixtures and proudly displayed them outside his home until his passing.
His son-in-law, Roy Gillespie, made the bombs into a sculpture, which will be donated to the Patriots' Hall Oconee Veterans' Museum in Walhalla after the Sept. 27 event.
Holder never met a stranger, so family members are hoping for a large turnout at the memorial event.