Smith era starts with tough loss for Flame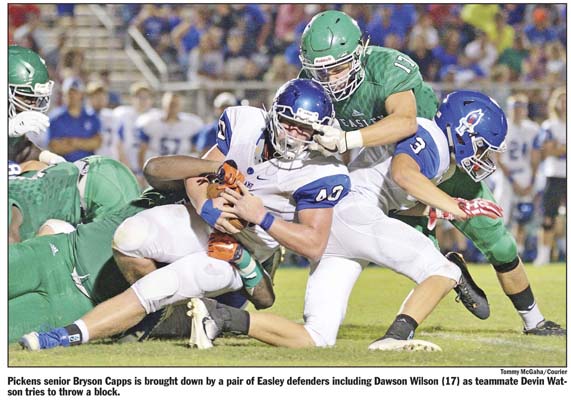 By Cole Little
Courier Sports
news@thepccourier.com
EASLEY — In high school football, the season is long, unpredictable and filled with ups and downs.
Pickens received a taste of just how lowly those downs can be in its season opener Friday night, as the Blue Flame fell 39-6 at the hands of archrival Easley.
With 58 rushing yards from young playmaker Brady Batson serving as the only positive for the Blue Flame offensively, first-year head coach Chad Smith, who at one time served as the head coach of Easley, was not pleased with the performance from his Pickens squad.
"It's a process, but I'm disappointed," Smith said. "I'm disappointed in the way that we performed, and I take 100 percent responsibility for that."
The Pickens offense showed brief flashes of brilliance on Friday, but overall appeared to be well within the growing process. Young, inexperienced and coming off of a two-win season, the Blue Flame looked shell-shocked at times when facing off against Easley's imposing defense.
Not helping matters for Pickens was the lack of a passing game. While Smith has garnered a reputation over the years as a coach who relies heavily on the run game, junior quarterback A.J. Santo didn't complete a single pass. Santo was sacked once and finished
You must be logged in to view this content.
Subscribe Today or Login