Still hip at age 95
When I was 10 years old, I discovered a strange and wonderful thing about my mother: She was a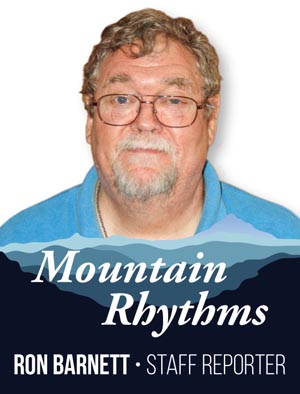 guitar player.
I found out about it when my dad bought her a Gibson electric guitar and a little Fender amplifier for Christmas in 1963. She hadn't had a guitar since she was a teenager, I think, which explains how I didn't realize she had this rare talent.
But it was only a couple of months later that The Beatles made their first appearance on the Ed Sullivan Show, and suddenly, my mom was the hippest mother in the neighborhood. Everybody in Clemson wanted to take guitar lessons from her. Before long we had a music store, and my brother Paul and I were on our way to becoming rock stars — or so we believed.
Somehow, more than 50 years have passed since then. And my mom, who will turn 95 on Sunday, is still just about as hip as they come.
She's still picking her guitar, though instead of the electric, she mostly plays a Martin nylon-string instrument, the same kind Willie Nelson uses.
She's still a bandleader, too, of a group called the Stone Mountaineers, although their activities have been greatly curtailed since the pandemic.
But let me back up and tell you a little about my mom, Bonnie Barnett, and how she came to be who she is today.
She was born on June 28, 1925, on a farm in the Sunset Mountain community of northwest Arkansas, up in the Ozarks. She was one of five daughters of Lambert and Mida Jane Porter. They had no sons, so the girls had to handle all the chores. They learned about the value of hard work and how to get by with very little money during the Depression.
Somewhere along the way, she and her older sister Verla learned to play guitars. They knew all the old folk songs of the mountains and picked up country and western tunes they heard on the Grand Ole Opry.
The nearest high school to Sunset was in Fayetteville, on the campus of the University of Arkansas, about 25 miles away. So, while she was only about 16, she left home and moved in with one of her older sisters in Fayetteville to attend high school.
That's where she met my dad, Bobby D. Barnett, a farm boy from the other side of the county.
It wasn't until a couple of years later, though, when Dad was in the hospital with an appendicitis and Mom was a nurses' aide, that they connected and started dating.
After she graduated high school, Mom got a job as a telephone operator. That was back in the days when if you wanted to make a phone call you picked up the phone and told the operator the number you wanted, and she would take an electrical cable and plug you into a socket with that number on it.
Once while she was working at the telephone company, Mom and some of her coworkers decided it would be fun to try to call my dad, who at that time was somewhere in the South Pacific mopping up after the Japanese surrender in World War II.
To their surprise, they were able to get through to him on the USS Marsh, somewhere in the vicinity of the island of Kwajalein. Those were the days when making long-distance calls was a real adventure that required multiple relays. But, probably assuming it was a call from home about a death in the family or some emergency, he was not amused.
Anyway, they eventually got married, on March 26, 1948. So when my dad died in February, they were approaching their 72nd anniversary.
It really was a match made in heaven — and not just because I came about as a result of it. She took care of him, and he took care of her. They never had any big fights.
If you want a description of her, just look at the list of the fruits of the spirit in Galatians 5: love, joy, peace, patience, kindness, goodness, faithfulness, gentleness and self-control. She's filled with all of them.
She would need those kind of qualities to deal with me and my brother growing up. She brought me back to the Christian faith when I had wandered off into Eastern religions, just by her persistent love and joyful glow.
She and my dad eventually traveled the world, including a time she spent teaching guitar to children in an impoverished community in Egypt, while Dad was teaching the poultry farmers there how to raise better chickens. She has written dozens of songs, mostly about family and faith, and made some great recordings of them.
The past year or so has probably been among the most stressful for her. She was pretty much stretched to the limit taking care of Dad in his last year or two as his health declined. And then she had a stroke three weeks after his death.
She has recovered well, but the COVID-19 pandemic came along and complicated her life at the retirement center where she lives in Stone Mountain, Ga. After going through multiple quarantines and spending about a month with my brother in Florida, she has finally just moved back into her independent living apartment.
She doesn't seem anything like 95 to me, though. She has a silver halo now instead of the blonde curls she had in her younger days, and she walks a bit slower. But her voice is just the same as always and her caring personality has never changed.
Happy birthday to you Mama. I love you. And may you have many more!