STOUDT ON TOP – Senior quarterback, Tigers dominate Oklahoma in bowl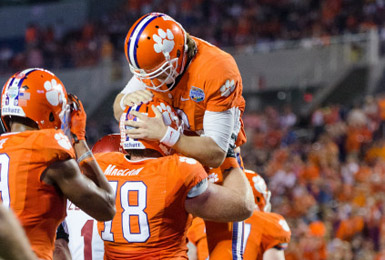 Photo by David Platt/Courtesy Clemson Athletic Communications
Clemson quarterback Cole Stoudt celebrates with offensive lineman Eric Mac Lain during the Tigers' 40-6 win over Oklahoma Monday night in the Russell Athletic Bowl. Stoudt earned MVP honors for his performance.
Clemson caps fourth straight 10-win season
By Jonathan Gantt and Colby Lanham
Clemson Athletic Comm.
ORLANDO, Fla. — Three-point underdog before the game, 34-point victor after.
Clemson dominated all aspects of the Russell Athletic Bowl in an impressive 40-6 win over the favored and No. 24-ranked Oklahoma Sooners on Monday night.
For the Tigers and head coach Dabo Swinney, the victory marked a third straight year with an impressive bowl win against a storied opponent.
Clemson capped 2012 with a win over LSU and head coach Les Miles, took down Ohio State and head coach Urban Meyer to close 2013, and beat Oklahoma and head coach Bob Stoops this season.
The win also gave the Clemson seniors 42 for their careers, extending a school record. The Tigers have recorded four straight seasons with double-digit wins, one of only four FBS programs who can make that claim, along with Alabama, Northern Illinois and Oregon.
Quarterback Cole Stoudt — who struggled through tough times during his senior season — earned a bit of redemption as he was named the game's MVP, a storybook ending to the signal-caller's season and Clemson career. He finished with 319 yards and three touchdowns on a 26-for-36 passing effort and also added a rushing touchdown.
Artavis Scott had eight receptions for 114 yards and one touchdown, while Mike Williams added nine catches for 112 yards and a touchdown. The two became the first receiving duo in Clemson history to record 100-yard games in the same bowl.
Clemson's top-ranked defense did not disappoint, forcing five turnovers and holding Oklahoma to 275 yards and a lone score in the fourth quarter. Defensively, Korrin Wiggins led the team with seven tackles and added an interception. Ben Boulware had a 47-yard interception return for a touchdown and also recovered a fumble. Grady Jarrett added 3.5 tackles for loss.
In their first game as co-offensive coordinators, Tony Elliott and Jeff Scott put together a gameplan that resulted in 40 points and 387 total yards.
"It's hard to start your playcalling career better than that," Swinney said. "We were in sync and in rhythm.
"We're not going anywere. This is another big win for our program, a great way to end 2014. And I can't wait for 2015."