Student Art Exhibit Kicks Off with June 29 Reception
PICKENS — Student artists who have taken classes with Renee Gillespie at the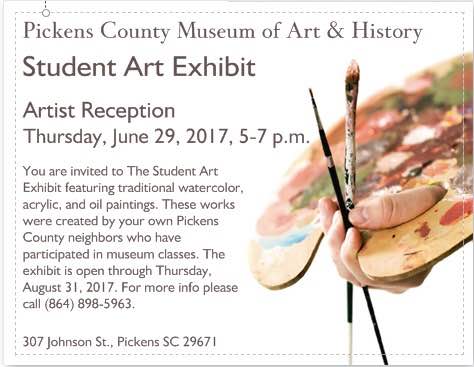 Pickens County Museum of Art and History will be exhibiting their worksat the museum in a show that begins June 29.
The public is invited to a reception from 5 to 7 p.m. on June 29 at the museum, 307 Johnson Street, Pickens.
The exhibit, which runs through August 31, will featuremore than 30 student artists whose works include watercolor, acrylic, oil, drawing, mosaic, paper marbling, clay sculpture, mixed media, and collage.
Gillespie, who has taught at the museum for the past 10 years, has a diverse artistic background and teaches beginning through advanced students in a variety of classes. Gillespie said the goal of her classes is to provide "an encouraging studio classroom that helps students learn the basics and grow as they use, develop, and refine their artistic skills."
Museum art classes are offered throughout the year in six-week segments for adults and children at a variety of skill levels, including beginning drawing, watercolor, acrylic, oil painting, mixed media, and collage.
Upcoming classes (Call the museum to register; cost is $78 for museum members and $88 for non-members):
Children's summer art class
Ages 11-14
Tuesdays–1:30-3 p.m.
June 13, 27; July 11, 18, 25; August 1
Students will be painting, drawing, sculpting, and working with clay to create their unique art masterpieces. All supplies are included. Students should wear art class clothes and shoes.
Adult painting class
Tuesdays 10 a.m.-1 p.m.
July 11, 18, 25; August 1, 15, 22
Upcoming workshops (Visit the museum's Facebook page or call the museum to register or for more information about workshops.):
Playing with polymer clay
Saturday, June 24, 10 a.m.-3 p.m.
Using beginning techniques, students will learn how to create small sculptures with polymer clay. All supplies included. Bring a bag lunch.
Paper and fabric marbling 
Saturday, July 22, 10 a.m.-3 p.m.
Create a visual travel journal 
Saturday, July 29, 10 a.m.-3 p.m.