Students observe Veterans Day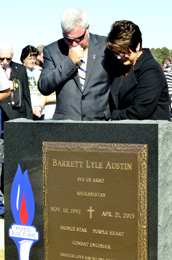 Tribute to A Hero
Kerry Gilstrap/Courier
PFC Barrett Austin's parents Curt and Yolanda Austin bow their heads in prayer at a monument dedicated in his memory at a Veterans Day ceremony at Pickens High School on Monday.
By Ben Robinson, Courier Staff
PICKENS — Pickens High School students heard inspirational words from an aging veteran and paid tribute to a local serviceman killed in defense of his country at a Veterans Day ceremony Monday.
The Rev. Ken Lawson reminded students that the county has a history of patriotism rarely found anywhere in the United States. Lawson, father of PHS principal Marion Lawson, said that per capita, Pickens County has more Medal of Honor winners, with four, than any other area in the United States.
Students packed inside the school's stadium for speeches from military figures before the school dedicated a memorial to Army PFC Barrett L. Austin, a PHS graduate who was killed earlier this year after his vehicle was bombed during Operation Enduring Freedom in Afghanistan.
Lawson told the students that Americans should honor veterans by being present for such patriotic ceremonies, exercising our right to vote and enjoying the freedom made possible by the sacrifices of many others.
In closing, Lawson said, "I salute you my comrades in arms. May God continue to bless Pickens High School and the United States of America."
Pickens High School student body president Brooke Stewart led the crowd in prayer, and the Pickens High School band played the songs of each branch of the American service with the themes for the U.S. Army, U.S. Marines, the U.S. Navy, the U.S. Air Force and the U.S. Coast Guard blaring proudly from the field. Members of each branch stood as their theme played.
The ceremony ended with the firing of a cannon and the playing of taps.