Summertime on Grandmama's back porch
It was summer, hot, humid and Gradmama wanted some peaches. Every summer as long as she was physically able, we canned peaches for the winter. She'd send Uncle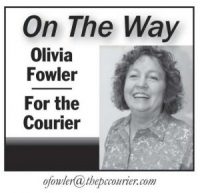 Walter or Wesley Campbell up into the sand hills where the peach orchards were, and they'd come home with a bushel of ripe, not hard, peaches at their peak.
They knew when all the different varieties came in and knew a lot of the growers.
I remember one particular day. We'd had breakfast. Once the cantaloupes started coming in, we'd eat one every day.
They'd be lined up on the shelf on the back porch, and Grandmama would send a
You must be logged in to view this content.
Subscribe Today or Login