Swinging the ax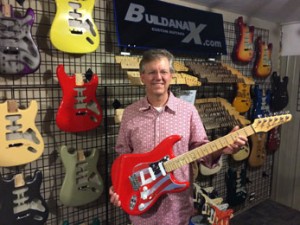 Steve Lorch/Courier
Danny Crawford owns Buildanax Custom Guitars in Central, where he spends up to 20 hours hand-assembling Stratocaster-style guitars for about one-third of the price of what most customs would cost.
CENTRAL — Have you ever dreamed of being a rock star — or maybe just having a guitar like one?
Meet Danny Crawford. This relaxed 54-year-old from Liberty can help you make your music dreams come true.
Crawford is the owner of Buildanax Custom Guitars in Central.
"Our workshop is located here in the Upstate, but the real action starts with your own imagination," Crawford said. "Customers go to our website and design their own dream guitar from the ground up. We then build it for them in our shop in Norris."
If Crawford's name sounds familiar, you may have recognized him from Music Maker in Easley — a store he owned for 27 years. He is also a studio musician, playing keyboards with various bands throughout the area.
"What makes Buildanax unique is that you have the ultimate choice of what goes into your guitar," Crawford said.
And the choices seem almost infinite. The shop is filled with different-colored bodies, necks, high-end electronics and accessories. It's a guitarist's candy store.
"The really cool thing is that you can calculate price and see what your actual guitar will look like before it's ever built," Crawford explained. "And our hand fret-dressed necks, shielded body cavities and top-quality components mean you get the most bang for your buck."
At about one third the price of what most customs would cost, Buildanax spends 12-20 meticulous hours assembling each guitar. This attention to detail has made Crawford's instruments popular with guitarists from Third Day, Jeremy Camp and NewSpring Church.
"Right now, we only build Stratocaster-style electric guitars," Crawford said. "But we are branching out into Telecasters and someday hope to add bass guitars to the line."
As the company continues to grow, Crawford says he doesn't want to lose that small-town feel that made it successful in the first place.
"We want to keep the mystique of owning a high-quality instrument hand-made in a small custom shop," he said.
Before hitting the stage, going on tour or just jamming in the garage, you may want to check out Buildanax to create your very own signature guitar.
For more information, visit buildanax.com or call (864) 230-8590.