SWU finally gets full NCAA membership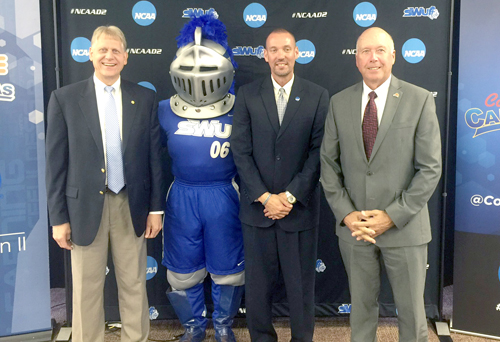 Southern Wesleyan University announced its acceptance into full membership of NCAA Division II July 20 at its campus in Central. Pictured following the announcement are, from left, Dr. Todd Voss, SWU president; the Warrior mascot; Chris Williams, SWU director of athletics; and Dr. Alan Patterson, Conference Carolinas commissioner.
By Greg Oliver
Courtesy The Journal
goliver@upstatetoday.com
CENTRAL — More than three years of work finally paid off for Southern Wesleyan University on Wednesday with the formal announcement that the university has been accepted as a full member of NCAA Division II.
The NCAA Membership Committee and Management Council made the decision, ending a long and sometimes frustrating process that included SWU's application initially being denied by the intercollegiate athletics governing body. Southern Wesleyan will now enter full NCAA Division II membership Sept. 1 as an official member of Conference Carolinas, where the school will become eligible for the conference championship and NCAA postseason play.
Conference Carolinas commissioner Alan Patterson said conference members were impressed by what Southern Wesleyan brings to the table.
"We believe in competition, that you should do as well as you can," Patterson said during a news conference on the SWU campus. "The Warriors have demonstrated the competitive spirit, sportsmanship and priority of positive student-athlete experiences that distinguish all our members during the last two years of competition within Conference Carolinas."
Patterson said he first learned of "Team SWU" during a Conference Carolinas committee visit to the campus.
"It is so representative of Conference Carolinas — that everyone is in, that everyone has ownership, that we support each other through the difficult times," he said. "This is what we at Conference Carolinas are all about.
"I feel the way Golden State felt when Kevin Durant signed with them. SWU has signed with Conference Carolinas."
Conference Carolinas is made up of 12 member schools across the Carolinas, Georgia and Tennessee. Southern Wesleyan will join Barton College, Belmont Abbey College, Converse College, Emmanuel College, Erskine College, King University, Lees-McRae College, Limestone College, University of Mount Olive, North Greenville University and Pfeiffer University.
SWU made its initial application to the NCAA in June 2013, with an invitation extended for Conference Carolinas affiliation. The three-year process included two years in candidacy status and one year as a provisional member.
After the NCAA Membership Committee initially denied the application in July 2013, the NCAA Management Council approved Southern Wesleyan University after its appeals process. In July 2014, the NCAA Management Committee recommended SWU to repeat its first year of candidacy, but that decision was overturned, enabling the university to move forward to the second year of candidacy.
In July 2015, Southern Wesleyan moved to provisional status, the final year of the membership process. Competing as a transitional member of Conference Carolinas over the last two years, SWU has been ineligible for conference awards, NCAA awards, conference championships and NCAA postseason.
SWU athletic director Chris Williams, who said the Conference Carolinas membership will cut down on travel, said it was God's perfect timing that enabled the school to finally realize its dream after so many highs and lows. Williams also said there was a perception of the school that may have hurt its chances in the beginning until on-site visits showed what a positive impact SWU could make in NCAA Division II as a member of the conference.
"When you're looking at a document and it was 3,000 pages, it's easy to look at a school in Central, South Carolina, and think they're not a fit," Williams said. "But once they came on campus, they were blown away."
SWU president Todd Voss said attaining NCAA member status will enable the school to compete on a more level playing field than it has in the past due to its small enrollment and private-school status.
"We have an opportunity to be more competitive, and it allows us to open up more possibilities for student athletes," Voss said. "(Earning full NCAA membership) attracts a high-quality student and athlete to SWU to provide them with a foundational element of who we are and what we're becoming."
Kade Herrick, tourism director for the Clemson Area Chamber of Commerce, said SWU's membership in NCAA Division II will enable applications for hosting track and field, softball and baseball championships on campus.
"It will be great from a tourism aspect being in the NCAA and opening up more doors for us," Herrick said. "Hopefully it will be a win-win for everybody."
Charles Wimphrie, once a standout basketball player for the Warriors who has served as head men's basketball coach since 1986, said finally achieving full NCAA membership "changes everything."
"To go into a student-athlete's home and talk to them and tell them that we're NCAA is a game changer," Wimphrie said. "I'm also at NCAA events, able to talk to kids that are mid-major or low-major kids looking to go to NCAA institutions. The style of player is different now, the type of talent and competition is different."
More than 300 colleges and universities comprise NCAA Division II.