Teen arrested in shooting death of father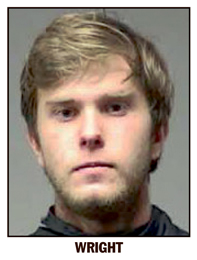 PICKENS — An Easley teen was charged with manslaughter in the late-night shooting death of his father in Pickens last week.
Joshua William Wright, 17, whose address on an incident report was listed as 301 Katie Lane, was also charged with discharge of a firearm inside city limits, according to Pickens Police assistant chief Travis Riggs.
Wright's father, 46-year-old Joseph Wright, was pronounced dead at Greenville Memorial Hospital after the shooting, Riggs said in a statement.
According to the incident report, officers were dispatched to 210 Bivens St. in Pickens shortly after 10:45 p.m. on Thursday in reference to a shooting.
Upon arrival, police found five people on scene, with one man on the ground with what appeared to be a gunshot wound to the right side of his abdomen. An officer reported he saw blood leading from the front door of the home to where the victim was laying on the ground outside, and a witness said the gun involved in the incident was inside the living room of the home on a table.
An officer secured the weapon as the investigation began.
Riggs said there was altercation at the home before the shooting, and the investigation is still ongoing.
According to the incident report, Wright, who was reportedly still on scene when officers were dispatched, was arrested less than two hours after the shooting, at 12:23 a.m. on Friday morning.