Thanksgiving Leftovers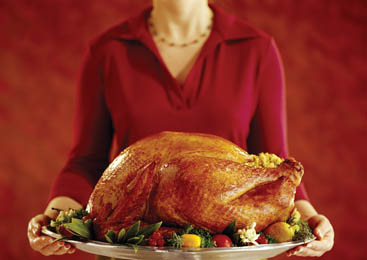 Turkey day is over, but you still have enough food
to feed an army. Use these idea to help you get
the most out of your holiday.
By Olivia Fowler
For the Courier
ofowler@thepccourier.com
So the Thanksgiving feast has been eaten, the company has departed, the house is a shambles and you don't feel like cooking.
You have options — freeze your leftovers in usable portions, go out to eat or recycle the leftovers into totally new meals.
Although it's wonderful on Thanksgiving, nobody wants to repeat the same meal over and over again until the leftovers are gone.
In addition to the usual turkey sandwiches, reheated macaroni and cheese and days-old deviled eggs, there are plenty of options out there for putting those leftovers to good use. The recipes featured here are just a few of the ways you can stretch Thanksgiving over into December.
Of course, you can just feed everyone cereal for the next few days, and that's alright, too.
But you don't have to. Remember, this is America, and you have freedom.
Leftover Casserole
3 tbsp. olive oil
2 tbsp. unsalted butter
1 red onion, diced
2 ribs celery, diced
1 red bell pepper, cored, seeded, and diced
1 green bell pepper, cored, seeded, and diced
3 garlic cloves, minced
1 jalapeno, seeded and minced (cut back on amount if too hot)
1/4 c. all-purpose flour
8 c. shredded cooked chicken or turkey
3/4 c. dry white wine
3 c. chicken broth
1/4 c. chopped fresh parsley
2 tsp. chopped fresh thyme or 1/2 heaping tsp. dried thyme
1 tsp. red pepper flakes (cut back if desired)
1 c. leftover corn
Salt and freshly ground black pepper to taste
2 c. leftover creamed potatoes
2 tsp. chili powder (cut back if you like)
Fresh parsley and fresh thyme, to garnish, optional
Preheat the oven to 400 degrees F.
Heat the olive oil and butter in a large skillet over medium heat. Add the onion and cook, stirring frequently, until slightly brown, about five minutes. Add the celery, red bell pepper, and green bell pepper and cook three minutes more, stirring occasionally. Add the garlic, and jalapeno and cook three minutes more, stirring occasionally.
Add the flour and cook, stirring constantly, until the flour starts to brown slightly, about five minutes. Add the chicken or turkey and wine and stir until the wine begins to evaporate, about one minute. Slowly add the chicken broth, and continue to cook, stirring frequently, until the mixture begins to thicken and coats the back of a spoon. Reduce heat to low, bring the mixture to a low boil, and cook 5-10 minutes or until the mixture thickens and is creamy.
Remove from the heat and add the parsley, thyme, red pepper flakes, and corn. Season with salt and pepper, and transfer the mixture to a 9-by-13-inch baking dish.
To make the chili mashed potatoes, mix mashed potatoes with one teaspoon of the chili powder in a bowl until well combined.
Spoon the chili mashed potatoes on top of the chicken and bake 20-30 minutes or until the potato peaks are slightly brown and the chicken mixture is bubbling around the sides of the dish. Remove from the oven, sprinkle with the remaining chili powder and the parsley and thyme, if desired. Serve immediately.
Leftover Ham and Potatoes Pierogies
Dough:
2 c. bread flour
2 c. all-purpose flour
1/4 tsp. baking powder
1 tsp. salt
1 egg, beaten
2 tsp. olive oil
1 c. warm water
1 gal. salted water
1 small onion, sliced
1/2 stick butter
2 scallions, sliced
Sour cream, to garnish
Filling:
2 c. leftover mashed potatoes
1/2 c. smoked ham, diced
1/4 c. frozen sweet peas, thawed
1/2 c. shredded Gruyere
In a medium bowl, add filling ingredients and combine well. Set aside.
In a large bowl add both flours, baking powder and salt and mix well. In a separate bowl add the remaining dough ingredients and whisk until combined. Add wet ingredients to the dry ingredient using a wooden spoon to form a ball. Cut in half.
You can freeze dough for another time, if desired.
Flour a work surface and roll dough about 1/8-inch thick. Use a 3-inch biscuit cutter to cut out 12 rounds from the dough.
Place a dollop of filling in the center of each dough round. Fold dough over filling to form a half moon.
Press edges together with your thumb. Seal the edges using the flat tines of a fork.
Bring a large saucepan of salted water to a simmer. Add pierogies and cook for about two minutes. Drain pierogies.
Meanwhile, in a large skillet over high heat, melt half of the butter and add the onion.
Cook onions for 5 to 6 minutes until slightly caramelized. Add pierogies and the remaining butter. Allow to saute for a few minutes, then add the scallions.
Remove to a platter and serve with sour cream.
After Holiday Turkey Quiche
2 1/2 c. leftover cornbread dressing
1 c. chopped cooked turkey
1 c. shredded swiss cheese
4 eggs, beaten
1 (5 1/3 oz.) can evaporated milk
1/8 tsp. white pepper
Chopped tomato (optional)
Paprika (optional)
Preheat oven to 400°F.
Press leftover dressing into 9-inch pie plate, forming a crust.
Bake 10 minutes, remove and turn oven on 350°F.
Spread meat and cheese evenly over bottom of hot crust. In a medium bowl combine eggs, milk, and pepper. Pour this mixture over meat and cheese.
Bake for 30-35 minutes or until set.
Cool 10 minutes before serving. Garnish with tomatoes and paprika if desired.
This dish works just as well for a breakfast as it does for lunch, dinner or a mid-afternoon snack.