The view from the front porch
In the early morning in the rain, we can sit on the front porch with the first cup of coffee and watch beads of rain roll down the center of the elephant ears and drop off to the leaves below.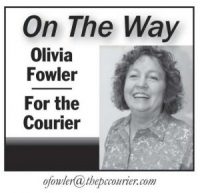 The rain beads look white, and it's as though someone broke a string of pearls and dropped them out from the porch roof.
It is a magic trick of the weather. But the light has to be just right for this to happen.
When the rain stops later in the day, and early evening approaches, a cloud of yellow swallowtail butterflies flutter around the lantana on the walkway. This afternoon, I counted 13 on the lantana there and six on the butterfly bush nearby. There were other smaller butterflies — not as showy as the swallowtails, but beautiful in their own way.
I don't know where butterflies go when it rains, because I never see them
You must be logged in to view this content.
Subscribe Today or Login