Thousands gather to celebrate Tigers' title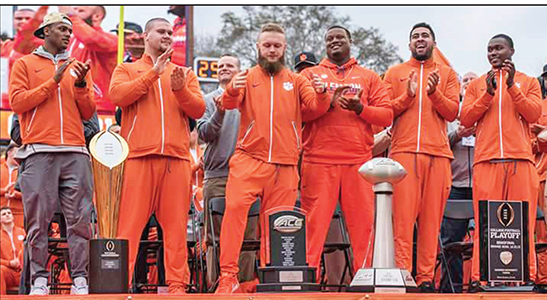 Pamela Dodson/Courier
Clemson football players, from left, Deshaun Watson, Jay Guillermo, Ben Boulware, Carlos Watkins, Jordan Leggett and Jadar Johnson clap during Saturday's celebration of the Tigers' national championship at Memorial Stadium.
By Justin Lee Campbell
Courtesy The Journal
justin@upstatetoday.com
CLEMSON — For those on the outside looking in, Saturday could have passed for just another college football game day in Clemson.
People dressed in orange and purple walked along Old Greenville Highway like marching ants. The doors of downtown gift shops didn't shut as a steady stream of shoppers popped in and out to grab the latest Tiger gear.
And tens of thousands of screaming fans filled the stands at Memorial Stadium.
But instead of watching a game Saturday morning, an estimated 65,000 people celebrated the Clemson Tigers for winning the 2016 College Football Playoff National Championship. Clemson head coach and two-time Paul "Bear" Bryant Award winner Dabo Swinney thanked fans for their support.
"I can't tell you how deep in my bones how happy I am for you fans, for the Tiger Nation," Swinney said from a stage set up near the east zone of Frank Howard Field. "It's just incredible. This is a special bunch, a special place. I'm so happy for y'all."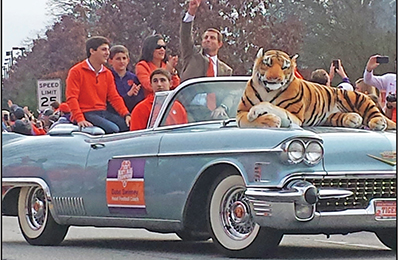 Swinney entered the stadium with his family, the team and staff at the conclusion of a parade that traveled from Keith Street on College Avenue toward Bowman Field, turned onto Old Greenville Highway and proceeded to Clemson's athletic district.
Pamela Dodson/Courier
Clemson coach Dabo Swinney and his family ride in a parade Saturday celebrating the Tigers' national championship.
The procession followed muscle cars chauffeuring Swinney and his family, Clemson University president Jim Clements and Clemson athletic director Dan Radakovich.
Clemson linebacker Ben Boulware and quarterback Deshaun Watson rode in style in an orange jeep.
Swinney told fans at the beginning of a passionate half-hour speech that external affairs director Thad Turnipseed said the athletic department might postpone the parade due to inclement weather that ultimately failed to materialize.
"I said, 'Thad, we're having the parade,'" Swinney said after thanking Turnipseed and his staff for organizing the celebration. "And you show up in January and you get a day like this. Tell me God ain't a Clemson fan!"
The celebration capped a 2016 Clemson football season that included an 11-1 regular-season record, a second straight ACC Championship, a shutout victory over Ohio State in the Fiesta Bowl and a 35-31 defeat of No. 1 Alabama in Tampa, Fla., for the second national title in school history.
Swinney said he told the players after their last practice before heading to Tampa that they were going to join Clemson's first national champions, the 1981 team, on the Memorial Stadium Ring of Honor.
"I said, 'Boys, that 1981 team has been awfully lonely up there on that stadium for a long time,'" Swinney said with the championship and American Football Coaches Association trophies flanking him. "The last thing I told them was, 'Next Saturday, we're going to have a parade to celebrate, and Death Valley is going to be packed to the house to celebrate … the 2016 national champions!'"
For Clemson quarterback and CFP National Championship offensive MVP Deshaun Watson, the parade and celebration punctuated a college career packed with achievements.
Watson won the Manning Award as the top collegiate quarterback in the nation and the Chic Harley Award as the nation's top player. And with a record of 32-3 and MVP awards in three playoff games, the two-time Heisman Trophy runner-up could go down in college football as one of the greatest to ever play the game.
But the always cool, calm and smiling Watson stayed humble behind the podium Saturday. Like Swinney, Watson thanked fans.
"These past three years have been probably the best experience of my life, and I've enjoyed every single moment," Watson said, donning a backward gold-and-black championship hat. "Thanks for all the support, the love and making this university the best university in the country."
Watson could take a little bit of his own credit for elevating Clemson to the world stage. After graduating one year ahead of schedule in December and throwing the last-second, game-winning touchdown to walk-on wide receiver Hunter Renfrow in Tampa, Watson will forever have a family at Clemson.
But Watson's gratitude continued to show in his short and sweet speech.
"I want to thank my teammates, my coaches, everyone who is a part of this staff (for) treating us right, making sure we become men and the best football players on the field," the Georgia native said. "Everything that we've put in and all the work that we've put in is coming to show now, so it's a blessing to let the world see what Clemson is all about. It's a special place. I just thank everyone once again, and go Tigers."
Watson received a huge ovation as he took his seat, and the fans kept up the cheering for Boulware, the defensive MVP of last week's national championship game and winner of the 2016 Jack Lambert Award as the nation's top linebacker. The loud and proud Boulware, known for his enthusiastic speeches, joked that his speech would take longer than the others. Fans gave a hearty laugh.
"I grew up in this area," said Boulware, who graduated from T.L. Hanna High School in Anderson. "I've been part of this my whole life. I'm one of y'all."
Overwhelmed with emotion, Boulware paused and brought his hands to his face.
"A verse that epitomizes this team is 1 Corinthians 9:24: 'In a race, everyone runs, but only one wins first prize, so run your race in a way to win,'" Boulware said with a tear-streaked face. "And our team did that all year."
Boulware racked up 131 tackles during the 2016 season, according to clemsontigers.com. And he helped keep Alabama to just 31 points in the championship game with his six tackles, two for a loss, and a broken-up pass.
"We didn't care when we played big, bad Alabama, and we focused on us and took care of it that day," Boulware said.
Like Swinney and Watson, Boulware couldn't leave the podium without thanking the fans.
"I'm so thankful for this university and the opportunity we've been given, the platform that I've been placed on," Boulware said, holding back tears. "And I'm just glad the trophy is back home, y'all. Love y'all."
Swinney mentioned the same word in his speech: love. He said he told the team that although the Crimson Tide boasted a bigger budget, bigger stadium and bigger alumni base, the championship game would come down to belief, culture, will and heart.
"But most of all, it was going to be about their love for each other and for Clemson University, because when you love something, and when you love each other, you'll do that little extra, and that's what we saw Monday night," Swinney said. "And the last scoring play epitomizes what this team is all about. You saw the five-star quarterback throw the game-winner to the walk-on wideout. That's what this team is about."
justin@upstatetoday.com | (864) 973-6685
Follow on Twitter @jlcampbell90