Three arrested in Pickens crime spree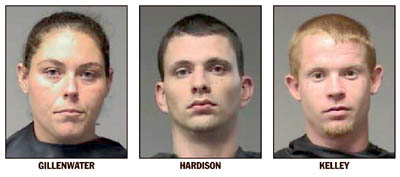 PICKENS — Three Pickens residents were arrested last week in connection with a crime spree in early June that included local churches and the Hagood Mill among its targets.
Police said Jessica Ann Gillenwater, Michael David Hardison and Matthew Joseph Kelley were responsible for the string of crimes, which occurred from June 7 to June 12.
Gillenwater, 28, of 118 Barnwood Place, was charged with grand larceny, second-degree burglary and simple larceny.
Hardison, 25, of 155 Windmont Road, faces two counts of grand larceny, two counts of simple larceny, second- and third-degree burglary charges, malicious damage to real property and breaking into a motor vehicle. He was also charged with violating his probation and a family court bench warrant.
Kelley, 27, of 134 Johnny St., was charged with three counts of grand larceny, simple larceny and second-degree burglary.
According to warrants, the incidents began on June 7, when police believe Hardison threw a hammer through a glass door at Masters Grocery on U.S. Highway 178 in an attempt to gain entry into the business. On the same day, warrants allege, all three suspects broke into a home on Skyland Drive and stole vehicle batteries and silverware, while warrants also charge Hardison and Kelley with unsuccessfully trying to steal a truck from the parking lot of Hagood Mill.
The crimes continued the following day, June 8, according to warrants, as Hardison and Kelley allegedly stole a van from Midway Baptist Church by punching the ignition with a screwdriver. The vehicle was recovered the next day in Liberty, according to warrants, and a fingerprint lifted from inside the van was matched to Hardison.
Hardison is also charged with damaging the steering column and ignition switch of a van at Golden Creek Baptist Church in an effort to steal it on June 8.
On June 11, warrants claim, police believe Gillenwater and Kelley stole a car with a woman's purse inside from the parking lot of New Hope Baptist Church.
The final incident allegedly occurred on June 12, when warrants claim Hardison broke into an outbuilding at a home on Winmont Road and stole items including a drill, drill bits, frozen food and a television.
Hardison was arrested at a home in Liberty on June 16, Pickens County Sheriff's Office chief deputy Creed Hashe said. Gillenwater and Kelley turned themselves in on Thursday.
At press time, Hardison was being held on a total bond in excess of $35,000, while Gillenwater was being held on a total bond of $22,500 and Kelley was being held on a combined $42,500 surety bond.