Tigers crush Orange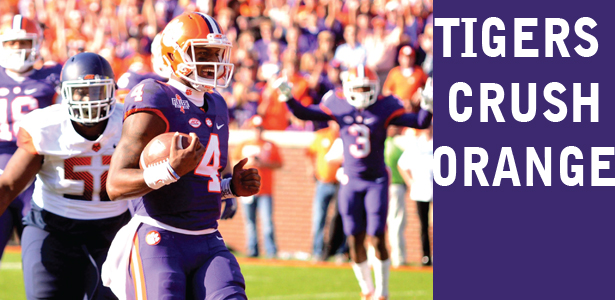 Kerry Gilstrap/Courier
Clemson quarterback Deshaun Watson smiles as he cruises into the end zone for a touchdown against Syracuse on Saturday.
By Scott Adamson
Courtesy The Journal
scott@upstatetoday.com
CLEMSON — After Clemson football fans had to sweat out the final moments of their team's last two games, the Tigers decided they owed the faithful a drama-free afternoon.
And they gave Solid Orange Nation just that — thanks in large part to a redshirt graduate quarterback who took a star turn.
On a fall-tastic Saturday at Memorial Stadium, Dabo Swinney's purple-clad charges used Military Appreciation Day to flex their muscles in a 54-0 blowout of Syracuse.
The victors racked up 565 yards of total offense, committed no turnovers, and demonstrated that the offense can still move the markers and pile up points even when starting quarterback Deshaun Watson is on the sideline. When Watson suffered a shoulder bruise, Nick Schuessler came on in relief and turned in an outstanding performance.
"Great job by our guys today," Tiger coach Dabo Swinney said. "We spread the ball around to a lot of guys, and Deon (Cain) had a career day. Our offensive line played great when we were down without (Jake) Fruhmorgen. (Sean) Pollard and (Tremayne) Anchrum stepped up and did a great job manning that right side today."
No. 2 Clemson improved to 9-0 overall and 6-0 in the ACC, with one more conference victory assuring an Atlantic Division title and trip to the ACC Championship Game in Orlando, Fla., next month.
Syracuse slipped to 4-5, 2-3.
The Tigers raced out to a 30-0 lead at halftime, fueled by 396 yards of total offense and a defensive effort that featured a pair of interceptions and a suplex tackle courtesy of man-beast Ben Boulware.
Boulware was saddled with a 15-yard penalty for his takedown of running back Dontae Strickland, although no one could actually figure out what his infraction was.
"He was trying to get an extra yard and I'm behind him, and I wasn't going to just let him go," Boulware said. "I had to get him down some way."
Syracuse was hampered by the loss of starting quarterback Eric Dungey, who was injured early in the clash. However, even when he was on the field, the visitors were overmatched.
"Obviously, we played a fantastic football team in Clemson," Syracuse coach Dino Babers said. "My hat goes off to coach Dabo Swinney. Unbelievable team, offensively, defensively, kicking game. Definitely a team that's worthy of its ranking, and I wish them the best of luck on their goal to win a national championship."
Although Watson suffered a shoulder ding and took himself out of the game late in the second quarter, Schuessler was more than capable in relief.
Clemson scored on the first drive of the second half, courtesy of Wayne Gallman's five-yard run, and an 18-yard scoring toss from Schuessler to Cain late in the third inflated the cushion even further, with the extra point making it 44-0.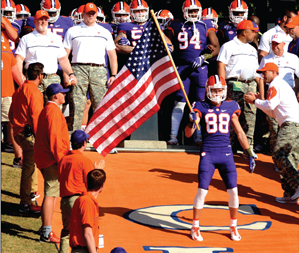 Kerry Gilstrap/Courier
Walk-on Sean Mac Lain led Clemson down the Hill prior to Saturday's Military Appreciation Day win over Syracuse.
"When Deshaun got banged up, we felt we had good control of the game and he was ready to come back in the second half, but Schuessler did a great job stepping up today," Swinney said. "He set a great example for his teammates. It's a hard to continue to have to prepare each and every week like you're the starter. It's a hard thing to do, but that's what it's all about. I'm so proud of Nick for going in there and making some great throws. We kept on clicking, and it was an outstanding win."
It was the first game in Clemson history two QBs (Watson and Schuessler) had at least 160 passing yards in the same game.
Watson was 13-of-16 for 169 yards and two touchdowns, while Schuessler went 11-for-17 for 177 yards and a pair of scores.
"I always tell myself that I spend too much time standing on the sideline to go out there and play scared, so if I ever get the chance, I am going to go out there and cut it loose," Schuessler said. "I think that's how I felt I played out there — I cut it loose. The coaches did a great job of getting us prepared. It helps when you get to go out there and throw to receivers like we have here."
Clemson co-offensive coordinator Tony Elliott said Schuessler got the job done when the job was his to do.
"Really, really happy for him," Elliott said. "He's a guy who's waited his turn. To go out with our second unit and not miss a beat was great."
Greg Huegel made the score 47-0 with a 46-yard field goal 11:42 from the finish, and the final insult came when Tanner Muse picked off Austin Wilson and went 64-yards to the house.
"That was awesome to have a performance like we did," Boulware said. "So much preparation goes into it. Syracuse has a lot of athletes and some difficult schemes, so to get a shutout is a difficult thing to do. I'm just really proud of all of the guys."
Clemson held Syracuse on a three-and-out to start the game and – thanks to a shanked punt – got the ball at the Orange 41. The drive bogged down in the red zone, but Huegel kicked the hosts ahead with a 22-yard field goal.
The Tigers' first TD was set up when Ryan Carter picked off a pass at the Syracuse 32 and returned it to the Orange 15. Three plays later, the hosts were in the end zone, with Watson scooting around right end from a yard out,
Huegel's PAT made it 10-0.
Clemson took complete control of the proceedings early in the first quarter with a 95-yard drive that lasted all of two plays.
Gallman started it off with a 30-yard run and Watson and Cain finished it with a 65-yard pitch and catch that ended in paydirt. It was the Tigers' longest play of the year.
The kick failed, but at 16-0 the home team was on its way.
It followed up its 95-yard scoring junket with one that went 89 yards, with Watson hitting Mike Williams on a 14-yard TD toss midway through the fourth quarter.
This time Huegel split the pipes, and the game was — for all practical purposes — over.
The Tigers' fourth TD of the contest came when Schuessler capped off a 14-play, 86-yard drive with a five-yard touchdown pass to Artavis Scott.
Once the horn sounded after 30 minutes, the "who" had been determined and all that was left to settle was the "how much."
Both Cain and Williams had 100-plus receiving yards, with Williams catching six passes for 106 yards and Cain snagging five balls for 125 yards.
Wilson was 17-27-2 passing for the Orange with 116 yards, and Amba Etta-Tawo caught nine passes for 84 yards.
As a team, Syracuse was held to 277 yards.
Both Boulware and Jadar Johnson has seven tackles, with five of Johnson's solo.
"Ryan Carter got us going with his interception in the first quarter," Swinney said. "The interception return by Tanner Muse was a thing of beauty. To get a shutout like this against a team that is capable of scoring and knows what they're doing offensively is amazing. Give a ton of credit to our coaches and players for their performances today. We want to set the tempo, and I think we did just that."
Pittsburgh comes to Death Valley this Saturday, and a win there would wrap up the Atlantic Division title for the Tigers.
Kickoff is set for 3:30 p.m.